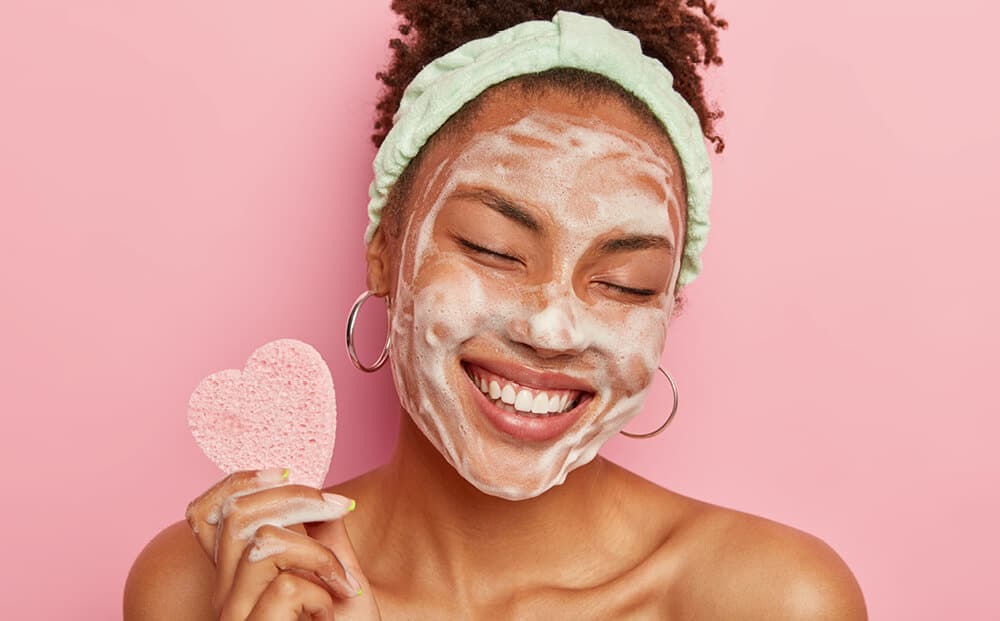 SUSTAINABLE SKINCARE THAT'S AWESOME FOR YOU AND THE PLANET
Beauty products labeled sustainable, eco-friendly, vegan, and cruelty-free are on the rise, but without
third-party verification
, it can be tough to know what these words actually mean, if they mean anything at all (greenwashing is a real problem these days). 
But it's easy to practice sustainable beauty and minimize your environmental impact with a natural, DIY skincare routine. All it takes is a little simple skincare science and a few easy-to-find ingredients. Read on to learn the steps skincare professionals use and how to customize your self-care with plant-based natural ingredients. 
What is sustainable skincare?
As a society, we are becoming more environmentally aware and choosing to move towards a plant-based, eco-friendly lifestyle in both
diet
and self-care. We are finally understanding the health, environmental and social impacts of our consumer choices. Sustainable skincare is healthier for us, and for the planet; what's better than beautiful skin without environmental impact and toxic ingredients?
So, how is a skincare routine sustainable? We gauge sustainability by considering the product's ingredients, sourcing, packaging, and their intended use. We're looking for reusable or biodegradable packaging, simple ingredients, and manufactured as local as possible. Simply put, think of everything holistically. If it feels like a good choice, and the container won't be in a landfill, it's okay! 
How can you tell if a skincare product is sustainable?
Luckily, many products have a certified label to help, because it isn't always easy to understand your product's impact. 
For example, ingredients aren't always "bad", but it's their sourcing that's detrimental, like in the case of palm oil. It's an incredible ingredient for food and cosmetics but since it's typically single sourced from one region, Indonesia, the cultivation of palm oil is causing mass deforestation. 
Certified labels like Fair Trade and the Rainforest Alliance can help you make an informed choice to avoid these impact
So what makes skincare sustainable?
How else can you make skincare more sustainable? By making your routine healthy, simple, and effective. That's because mixing products and D.I.Y. recipes reduce environmental impact. 
What are the benefits of making your own skincare products? 
Making your routine environmentally friendly is easy, low cost, and accessible—you can find thousands of free online recipes for every skin ailment. That said, sorting through these options can be time-consuming and confusing. 
And while I personally enjoy mixing products and getting creative with ingredients, improvising is tough when you're starting out.
So let's take a back-to-basics look at what our skin needs and add care steps from there. Knowing the beauty basics can help you reduce the number of products we buy, tune in to your personal skin needs, understand how to effectively use products, and eventually get creative with customizing your beauty routine.
Creating the best routine for our skin lets you dive deeper into the benefits of herbs as well. There are so many topical herbal remedies, from infusions to teas and compresses to balms.
How do you build a natural skincare routine?
A licensed esthetician (a.k.a. facialist) will typically adhere to the same routine but adjust ingredients and procedures depending on a client's skin type. This routine typically includes a whole bunch of satisfying steps: pre-cleanse, cleanse, tone, steam, exfoliate, extract (for blackheads, pustules, etc.), massage, mask, apply serum, moisturize, and protect (with sunscreen or night cream).
Luxurious and effective as these steps are, they aren't all necessary for your daily routine. Instead, think of your daily routine as an abbreviated version of a professional-grade facial, with the full version (minus extractions, which are best left to a professional since you can accidentally cause scarring) saved for a once-or-twice weekly at-home ritual.
What follows are outlines of ideal daily and weekly routines. Each of these steps can be done with your favorite products, customized or done with a D.I.Y. recipe at home with sustainable ingredients. I love making products from scratch from ingredients I can find at the local grocery store; I've used everything from herbs, powders, flours, fruits, and vegetables for my skin. 
Daily routine
Pre-cleanse 
The pre-cleanser should be an emollient based product that can help glide off oil or makeup, so an oil or balmy base.  
This step helps breakdown the top layer of makeup, dirt or pollution. A single cleanse often leaves behind stubborn dirt that clogs pores. At night, this step should be followed by a thorough cleanse. 
Dry skin types customize this step with an herb-infused oil or balm, and oily skin types can use micellar water or spray a hydrosol/toner onto face and follow with a light oil like hemp or sesame.
For pre-cleansing use a micellar water, cream cleanser, oil or balm. These products are made up of oil so they help breakdown topical dirt.
Cleanse
There are many ways to cleanse the skin, but a full cleansing is absolutely a crucial step. Over cleansing with harsh detergent-based soaps like body soap bars can cause reactions for sensitive, ultra-dry, or mature skin types, but cleansing with the right product is actually good for the skin.
Cleansers can be any of the following: powders, facial soap bar, gel cleanser, foaming cleanser, oil or balm. For sensitive, ultra-dry or mature skin types, these skin types are best suited for a micellar water, mixing hydrosol and light oil, cleansing oil or balm cleanser. My favorite products are simple balms, grapeseed or hemp oil infusions, and facial soap bars.
Tone
Toning regulates the skin's pH after cleansing and completes the cleansing by removing the last of the oil and dirt. Healthy skin is slightly acidic, with a pH of around 5.5, but surfactant-based or foaming cleansers are typically alkaline around pH 6-8. 
For toning, you can use an astringent like witch hazel*, or a plant water, also known as a hydrosol. I love nourishing and cleansing lavender, witch hazel because it gently rebalances skin, comfrey because it softens skin and is ultra-soothing due to its high Allantoin content and calendula because it's gently healing. Always check ingredient labels first for potential irritants, especially if you have sensitive skin.
* Always get alcohol-free witch hazel since alcohol is drying and damaging to skin, get the pure extract instead!
Moisturize
Moisturizing is always key, it is what keeps skin healthy and functioning. Layering your moisturizers is the most important step. Always apply from lightest formulation to thickest; so first spray a hydrosol or toner to dampen the skin, then apply a serum, then an oil if you choose, then complete with a thicker balm or lotion 
Moisturizers are really a personal preference, but a lotion, oil, balm or butter will work!
SPF / Balm
SPF is a crucial step in the morning because the sun is the number one cause of aging. Use an SPF30+ and apply last but before makeup.
Additional weekly steps
These are additional skincare steps that you can do 2x per week, or as needed. Exfoliating scrubs, masks, and infused massage oils are the best steps to D.I.Y. and get creative with ingredients.
My favorite herbal skin care recipes
Since D.I.Y. skincare recipes are truly customizable, the ratios of ingredients are up to you! All recipes are up to preference, except for the herbal balm because we want a creamy texture.
Pre-cleanse with herb-infused oils
Infused oils are the best to D.I.Y. because you can use them solo, or to make a balm or lotion. Always used fully dried herbs and jars!
Ingredients
Calendula (either whole flower or petals)
Grapeseed oil (or another non-pore-clogging oil like sesame or jojoba)
Optional: essential oils or additional nutrient-rich face oils like rosehip seed or meadowfoam.
Why
Grapeseed oil is non-comedogenic (it won't clog pores) and full of antioxidants including natural vitamin E. Calendula is calming, soothing and is known to aid in healing the skin.
Sesame is lightweight and noncomedogenic. Rosehip seed is highly nourishing to the skin and is naturally anti-aging.
How
Place calendula in a clean, dry jar and fill with your oil of choice, leaving no plant matter showing. Infuse for 7-21 days and strain.
Optional: Add five drops of essential oil like tea tree or rose, or supporting skin oils like rosehip seed or meadowfoam oil. 
To make this into a balm, stir in beeswax or cocoa butter melted in a double-boiler or microwave in a 1:3 ratio of butter/wax to oil. Pour into a jar and let cool. The shelf life is one year, since there is no water in this preparation it does not need a preservative, oils like hemp might go rancid quicker if left in the heat.
Cleanse with your favorite cleanser, or a D.I.Y. balm
I don't recommend making a cleanser since most soap bases are heavy surfactants and can cause skin reactions. Cleansers can be tricky to formulate depending on your skin type. 
For normal to dry skin types, you can use an oil, balm or pH balanced facial bar. For sensitive skin types, a light non-foaming cleansing cream or gel is recommended. For oily, combination and normal skin types, a foaming cleanser, clay-based cleanser or bar soap can be used. 
For a pre-cleanser or oil-based cleanser, you can just use the D.I.Y. infused oil two times, or use the oil to make your own gentle cleansing balm.
Cleansing balm
Ingredients
1 part grapeseed Oil
1 part shea Butter
Why
Grape Seed Oil is non-comedogenic and full of antioxidants. Shea Butter is creamy and moisturizing so it gently removes dirt without stripping skin.
How
In a double boiler, melt the grapeseed oil and shea butter, lightly mix and pour into a container to harden. Leave to set for 1 hour and then dig in!
Exfoliate with pumpkin + brown rice flour microfoliant scrub
Exfoliating keeps the skin bright and glowing by removing the topical dead skin. This recipe is a combination of chemical "enzyme" and physical "scrubby" exfoliants.
Ingredients
Pumpkin puree (organic canned or natural)
Brown rice flour
Why
Pumpkin has natural enzymes that breakdown the bonds between the dead skin cells, allowing them to come off effectively. Brown Rice Flour is super fine and gritty, it's the perfect drying microfoliant to push off lingering dead skin.
How
Mix ingredients into a paste using more flour, scrub in tiny circles around the face and leave on for 5 minutes, rinse off. Because this recipe calls for a little bit of pumpkin puree, you can freeze the leftover into silicone ice cube trays and defrost for pumpkin lattes or skin exfoliants! 
Tone with witch hazel infused with comfrey and calendula 
Ingredients
Organic witch hazel, lavender buds, comfrey, calendula.
Why
Witch hazel is an astringent, so it tightens capillaries and pores which soothes skin, reduces redness and supports cell renewal. Lavender is soothing both topically and aromatically, it is also anti-bacterial and cleansing. Comfrey calms and soothes skin because it naturally contains Allantoin and Calendula because it's healing and reduces scarring. All herbs must be in dry form, powder or whole (the powdered herbs are harder to strain when the infusion is finished).
How
Place lavender buds, comfrey, and calendula in a jar and fill with witch hazel. Infuse for two-to-three days and strain. 
This oil can be stored for six months to one year in a cool dry area, or leave in the fridge for a cooling spray.
Optional: Add a hydrosol like rosewater for sensitive skin, or a couple of drops of infused apple cider vinegar for acne-prone skin.
Massage with Herbal Infused Oil
To increase circulation and for
lymphatic drainage
support for glowing skin.
Ingredients
Sesame oil
Olive oil
Rosemary
Dried citrus
Helichrysum
Why
Helichrysum is softening to the skin, but it's also antibacterial, healing and is known to promote cell growth and speed up healing. It's used primarily for wounds, burns, and rashes and scarring. Rosemary is stimulating and increases circulation, this promotes muscle relaxation, wound healing and cell growth. 
Citrus contains vitamin c is brightening and neutralizes free radicals, so it's anti-aging. Sesame oil is light, non-clogging and stocked with antioxidants. Olive oil is dense, moisturizing, and keeps the formulation thicker and longer-lasting.
How
Place herbs in a clean, dry jar and fill with your oil of choice, leaving no plant matter showing. Infuse for 7-21 days and strain. All herbs must be in dry form, powder or whole (the powdered herbs are harder to strain when the infusion is finished).
Optional: Add 5 drops of rosemary essential to boost circulation and allow for proper detoxification.
Mask with Aloe, organic oats, and hemp 
With masks, we have a lot of room for creativity and most of these ingredients can be used in multiple forms for convenience.
Ingredients
Aloe gel
Powdered or whole dry oats
Hemp seed oil
Why
Aloe gel for cooling the skin and soothing redness. Oats for moisturizing, reducing redness and soothing.Hemp seed oil for its anti-inflammatory properties and nourishing omega 3's.
How
Mix equal parts of the aloe gel and hemp seed oil, then add oats until it forms a loose paste. This can be a dry paste-like mask using more oats or a gel mask with more aloe gel. Use this for a moisturizing mask. Mix, apply for 10-15 minutes and wash off.
Moisturize with green-tea-infused face oil
Ingredients
Hemp seed oil
Dried green tea leaves 
Why
Hemp seed oil is highly anti-inflammatory and lightly moisturizing without clogging pores. Green tea has a massive amount of antioxidants, which neutralize "free radicals", the things that cause aging (oxidation) of the skin. Basically, the more green tea we use the better!
How
Place loose green tea or tea bags into a jar and pour hempseed oil over the leaves, totally covering them and not leaving any plant matter exposed to air. Infuse for 2-4 weeks and strain, keep this oil stored in the fridge or a cool dark cabinet—hemp seed oil can easily go rancid. All herbs must be in dry form, powder or whole (the powdered herbs are harder to strain when the infusion is finished).
Here's how to find ingredient suppliers
Local
Grocery + Health food stores have a beauty section, and a bulk spice and ingredient sections that are great for finding things for D.I.Y. skincare. Farmers markets for seasonal ingredients like fruits (berries, pumpkin). 
The ingredient brands below are found in most grocery stores, health food stores, and pharmacies. 
NOW Brand: Carrier oils like jojoba, grapeseed, and castor, clay, shea butter (available at Whole Foods, Fresh Thyme, Sprouts, Natural Grocers, GNC, Target, and some Walgreens).
Bob's Red Mill: Flours, grains (available at most grocery stores and health food shops)
Frontier: Bulk herbs, spices, etc. (available at Whole Foods and other health food shops)
Nutiva: Plant powders like hemp seed, bulk seed oils
Herb Pharm: Alcohol-free glycerine-based herbal tinctures
Online
Mountain Rose Herbs
Frontier Herbs
Bulk Apothecary
Treat your skin, treat yourself
Treating our skin well is a part of overall health, and creating a routine that feels good, and does little harm is empowering. I hope this post was informative and gave you all the tools necessary to start your sustainable routine!
---
References:
Comfrey: A Clinical Overview. Christiane Staiger. 2012.
https://www.ncbi.nlm.nih.gov/pmc/articles/PMC3491633/#b38
October 17 2018
Dana Cutolo is an herbalist, holistic esthetician and conservation biologist focused on sustainable beauty and wellness.