Bladder Support
Regular price
$27.35
Sale price
$22.70
Unit price
per
Soothe Occasional Urges & Support Bladder Health
Soothe Occasional Urges & Support Bladder Health with Cranberry, Coriander, Uva Ursi & Parsley*
No one wants life to be constantly interrupted with trips to the bathroom at the most inopportune moments. Overactive bladder can cause sudden, intense urges in both women and men, and for a variety of reasons.
Bladder Support provides a plant-based supplement option that encourages normal urinary muscle elasticity and tone for people with occasional bladder leakage concerns.*
It contains 13 whole herbs blended in special combination to help soothe bladder urgency and encourage healthy urine flow – helping you better control when you go.*
Related Product: For ongoing (vs. occasional) issues, try Bladder Strength, a slightly different herb combination made with herbal extracts to address further bladder discomfort.* Depending on your unique body chemistry, one or the other formula may work better for you.*
ACTIVE INGREDIENTS
See All
CRANBERRY CONCENTRATE EXTRACT
CORIANDER SEED
UVA URSI LEAF
PARSLEY ROOT
ALL INGREDIENTS
Cranberry Concentrate, White Willow Bark, Echinacea Angustifolia Root, Coriander Seeds, Mexican Wild Yam Root, Dandelion Leaf, Marshmallow Root, Juniper Berry, Uva- Ursi Leaf, Plantain, Parsley Root, Kava Kava Root, Dandelion Root, Fenugreek Seed
Suggested Use
Take 2 capsules, 3 times daily, as needed.
Warnings
Do not use if tamper proof seal is damaged or missing. US FDA advises that a potential risk of rare, but severe, liver injury may be associated with kava-containing dietary supplements. Ask a health care professional before use if you have or have had liver problems, frequently drink alcohol or take any medications. Stop use and see a doctor if you develop symptoms that may signal liver problems (e.g. unexplained fatigue, abdominal pain, loss of appetite, fever, vomiting, dark urine, pale stools, yellow eyes or skin). Not for use by persons under the age of 18 or by pregnant or breastfeeding women. Not for use with alcoholic beverages. Excessive use, or use with products that cause drowsiness, may impair your ability to operate a vehicle or heavy equipment. Not for prolonged use. Do not exceed recommended dose. For other contraindications and cautions consult your health care professional. Keep out of reach of children.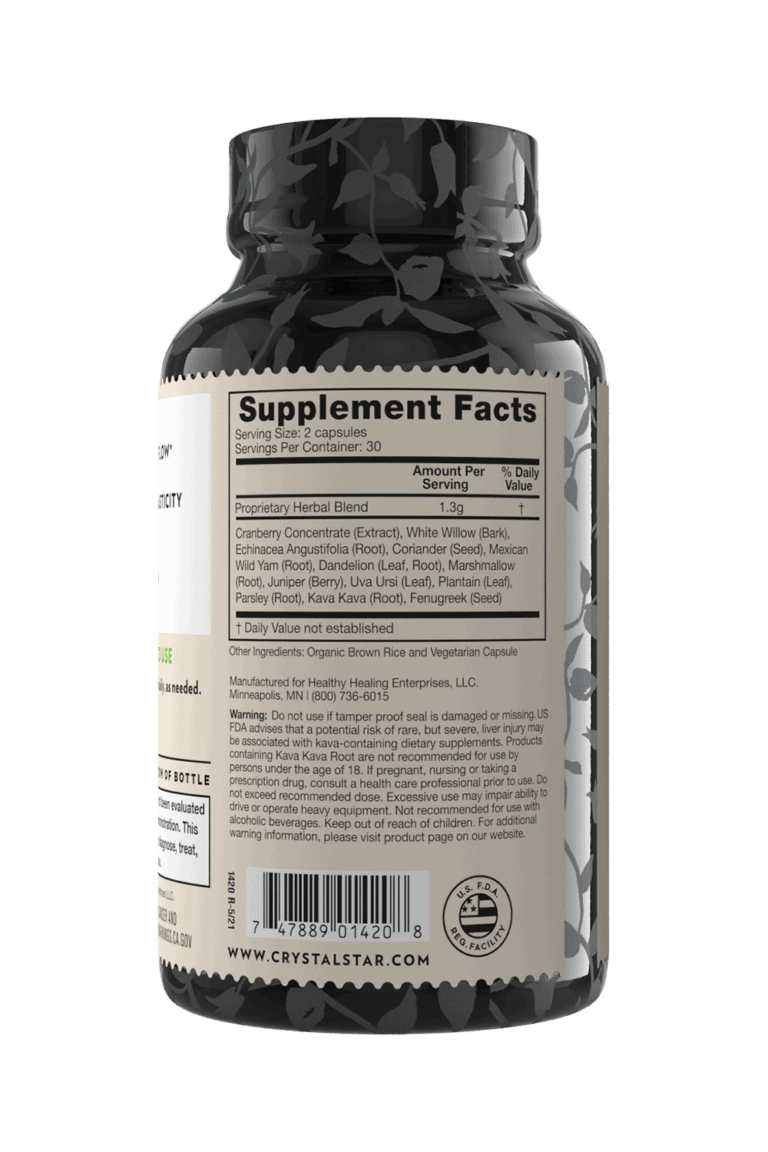 CRANBERRY CONCENTRATE EXTRACT
An antimicrobial that helps flush
bacteria from the bladder and kidneys*
CORIANDER SEED
Supports spasms that inhibit bladder
control and promotes tissue elasticity*
UVA URSI LEAF
An antiseptic and astringent that helps flush bacteria
in the urine and strengthens and tones urinary passages*
PARSLEY ROOT
A diuretic herb that also
supports strong tissue*
Product FAQs
What is the difference between Bladder Support and Bladder Strength?
Bladder Support is for people with occasional bladder leakage concerns while Bladder Strength is an extra strength formula that provides longer term support for ongoing bladder discomfort.
Are the effects of Bladder Support cumulative?
The herbs in this product work in a synergistic way within the kidney and urinary systems. Some of the effects are cumulative, some of them tend to be more immediate in nature.
Do I need to take this with food?
In order to achieve optimal results with this product, we recommend taking it away from food for better absorption into your system. If this irritates your stomach, taking it with food will relieve some of that discomfort.
Will Bladder Support help me with my UTI?
Even though Bladder Support is more for urgency and loss of bladder tone, it is also a mild diuretic and can be helpful, especially if paired with D-mannose which is absorbed slowly from the gastrointestinal tract and then a large proportion of it is excreted into the urine. It adheres to e-coli and other bacteria to flush it out of the body.
Is Kava Kava safe?
Kavakava root has been shown to have calming, muscle-relaxing and stress-reducing properties. The majority of people can enjoy the benefits of kava root when taken in moderation. Since 1978 Crystal Star has focused on the functional benefits of whole herbs formulated with secondary and tertiary supporting ingredients. The amount of Kava kava root in Bladder Support is just a small part of the 13 whole herb formula. However, we don't recommend any form of kava for people with a history of alcoholism, pre-existing liver problems, or who are taking prescription drugs.