Digestive Support
Regular price
$27.35
Sale price
$22.70
Unit price
per
Lower GI Support To Ease Occasional Stomach Discomfort
Lower GI Support to ease occasional gas, bloating and stomach discomfort with peppermint, aloe vera, ginger and slippery elm bark.*
Sometimes your intestines just don't love you back. If you have occasional bouts of gas, bloating, diarrhea or, in contrast, constipation, your lower GI requires a bit of calming support.
This blend of 13 soothing and relaxing herbs work together to support normal digestion and bowel regularity.* It may also help ease minor discomfort from occasional gas and bloating *
Note: While fairly fast-acting, best if used over period of 1-2 months.
Usage Suggestion: Try Crystal Star Digestive Support with or before meals, which may be helpful for people with sensitive digestion.
ACTIVE INGREDIENTS
See All
PEPPERMINT
ALOE VERA
GINGER
SLIPPERY ELM BARK
ALL INGREDIENTS
Peppermint Leaf, Aloe Vera Leaf, Marshmallow Root, Slippery Elm Bark, Cramp Bark, Cats Claw Bark, Pau D'Arco Bark, Mexican Wild Yam Root, Chamomile Flower, Hops Flower, Lobelia, Ginger Root, Peppermint Oil
Suggested Use
Take 2 capsules, 3 times daily, for 1-2 months, preferably between meals. For maintenance, take 1-2 capsules daily.
Warnings
Do not use if tamper proof seal is damaged or missing. Do not use if pregnant or nursing. Consult a health care professional prior to use if you have any pre-existing medical conditions or are taking any prescription medications. Keep out of reach of children.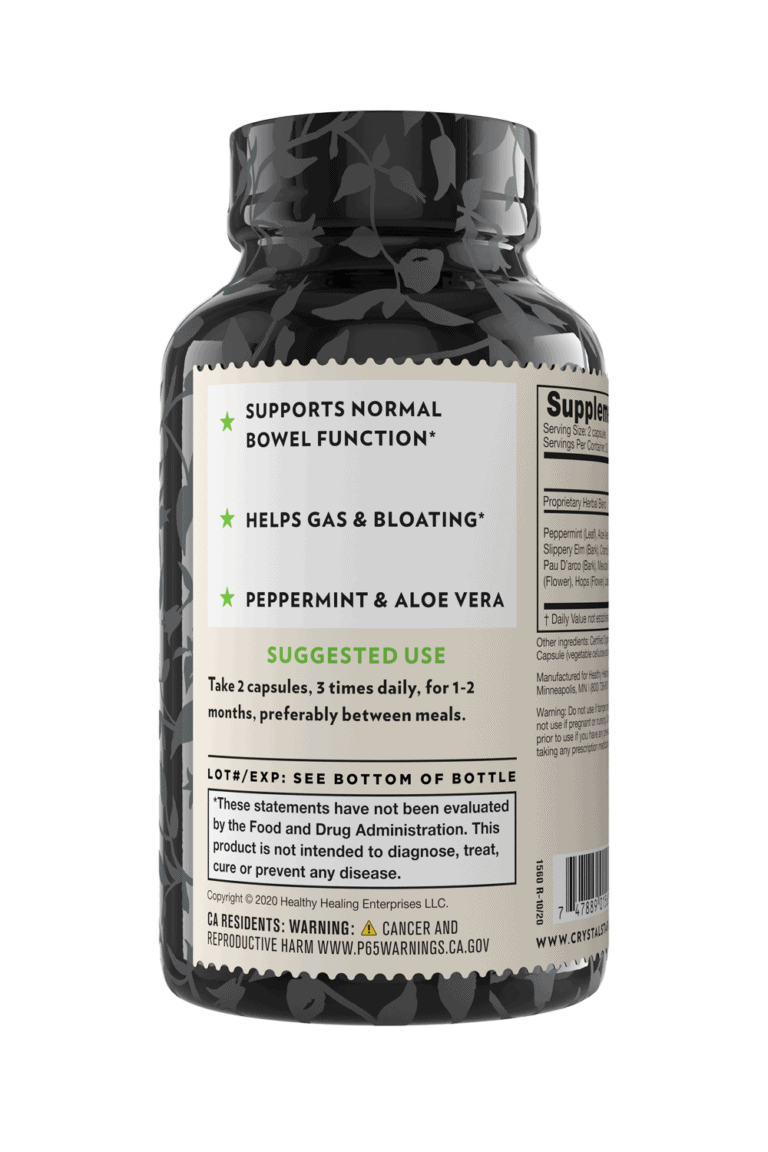 PEPPERMINT
Helps relax intestinal muscles for healthy bowel function.*
A carminative herb for gas and bloating.*
ALOE VERA
An antioxidant and anti-inflammatory that promotes digestive regularity.*
Supports normal gut lining health and function.*
GINGER
An enzyme-rich herb that helps ease gas
and bloating and soothe the stomach.*
SLIPPERY ELM BARK
Soothes occasional inflammation
in the stomach and intestines.*
Product FAQs
How does Digestive Support work?
The herbs in this 13 whole herb blend formula, such as peppermint and ginger, are carminatives that soothe the digestive tract and help to ease gas and bloating. Aloe Vera promotes digestive regularity and Slippery Elm Bark soothes occasional inflammation in the stomach and intestines.