Mood Lift
Regular price
$27.35
Sale price
$19.99
Unit price
per
Brighten your mood and lift your spirits
Brighten your mood and lift your spirits with St. John's Wort, Ashwagandha and American Ginseng.*
Feeling blah? These days, so many of us feel stressed, anxious, depressed, or downright exhausted.
If you're feeling blue, there are all-natural ways to help improve your mood and perk up your mental focus so you take on the day with renewed spirit.
Our Mood Lift contains a balance of 11 whole herbs, specially blended to help you feel good again and regain a sunnier, more proactive outlook.*
With St. John's Worth and Ashwagandha Root to help balance serotonin levels and support normal cortisol levels.*
With American Skullcap Leaf and Rosemary Leaf to help relax the mind and body, also helping to improve feelings of melancholy.*
Note: Do not combine with prescribed depression or anti-anxiety medicines.
ACTIVE INGREDIENTS
See All
ST. JOHN'S WORT
ASHWAGANDHA ROOT
KAVA KAVA ROOT
AMERICAN SKULLCAP LEAF
ALL INGREDIENTS
St John's Wort, Kava Kava Root, Ashwagandha Root, American Ginseng Root, Siberian Eleuthero, American Skullcap Leaf, Rosemary Leaf, Ginger Root, Rhodiola Rosea Root, Wood Betony, Fo-ti Root
Suggested Use
Take 2 capsules, once or twice daily, as needed. Take 2-3 months for best results. Do not use with anti-depressants or anti-anxiety medications.
Warnings
Do not use if tamper proof seal is damaged or missing. US FDA advises that a potential risk of rare, but severe, liver injury may be associated with kava-containing dietary supplements. Ask a health care professional before use if you have or have had liver problems, frequently drink alcohol or take any medications. Stop use and see a doctor if you develop symptoms that may signal liver problems (e.g. unexplained fatigue, abdominal pain, loss of appetite, fever, vomiting, dark urine, pale stools, yellow eyes or skin). Not for use by persons under the age of 18 or by pregnant or breastfeeding women. Not for use with alcoholic beverages. Excessive use, or use with products that cause drowsiness, may impair your ability to operate a vehicle or heavy equipment. Not for prolonged use. Do not exceed recommended dose. For other contraindications and cautions consult your health care professional. Keep out of reach of children.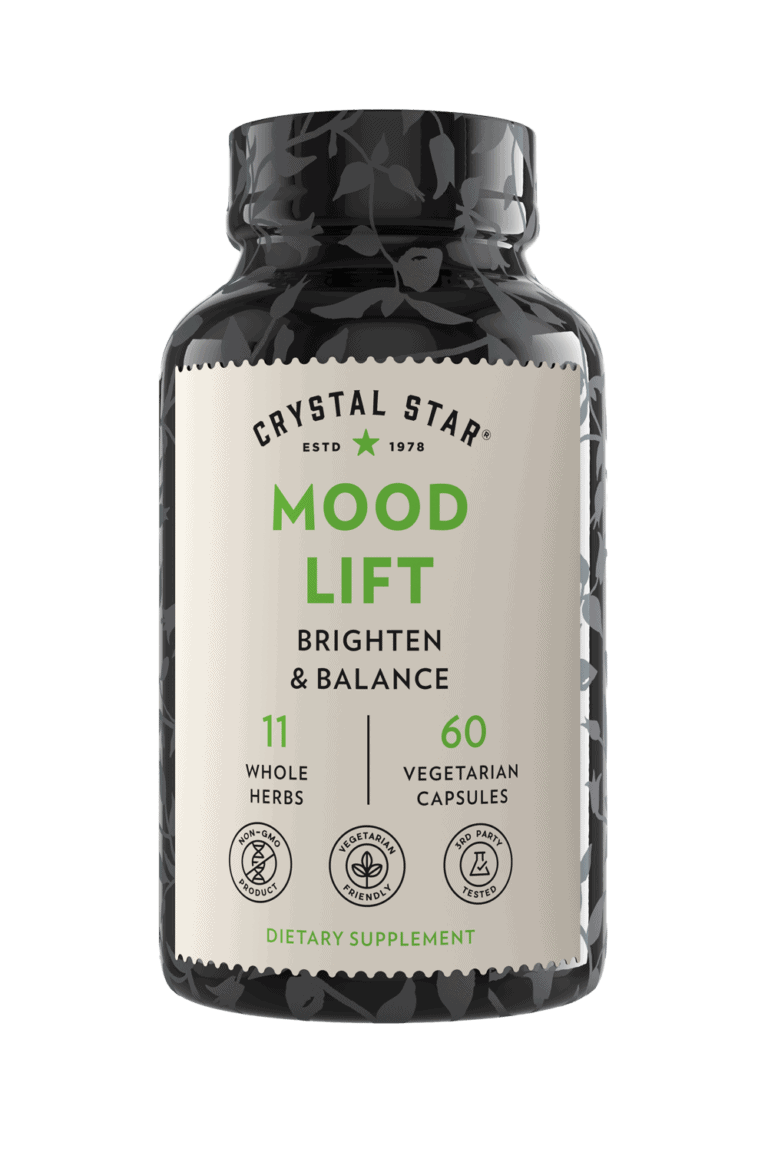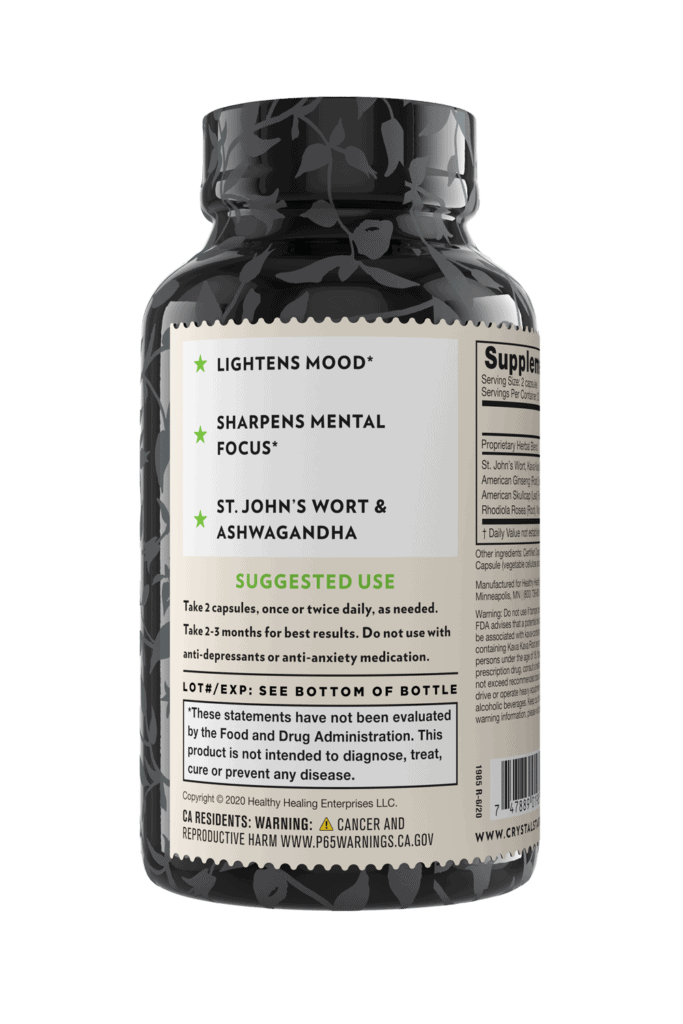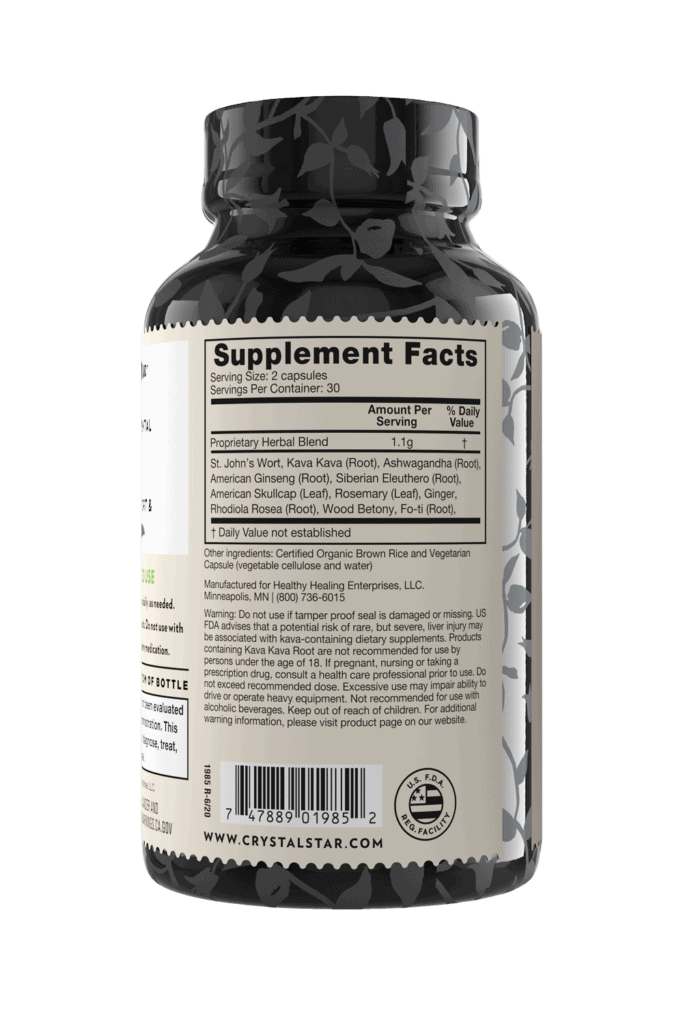 ST. JOHN'S WORT
A well-studied herb that promotes balanced
serotonin levels to elevate mood and heighten well-being.*
ASHWAGANDHA ROOT
Promotes calm and eases the stress
response by helping regulate cortisol levels.*
KAVA KAVA ROOT
Helps relax mind and body to help
calm anxiety, stress, and feelings of melancholy.*
AMERICAN SKULLCAP LEAF
Helps relax mind and body help
calm anxiety, stress, and feelings of melancholy.*
Product FAQs
Is Kava Kava Root safe?
Kavakava root has been shown to have calming, muscle-relaxing and stress-reducing properties. The majority of people can enjoy the benefits of kava root when taken in moderation. Since 1978 Crystal Star has focused on the functional benefits of whole herbs formulated with secondary and tertiary supporting ingredients. The amount of Kava kava root in Mood Lift is just a small part of the 11 whole herb formula. However, we don't recommend any form of kava for people with a history of alcoholism, pre-existing liver problems, or who are taking prescription drugs.
What drugs interact with St. John's Wort?
St. John's wort is known for its mood-elevating properties, but it can interfere with many prescription medications such as antidepressants, antibiotics, birth control pills, blood pressure medication, organ transplant medication, HIV medication, anticonvulsants, blood thinners, and asthma medication. We suggest any person taking prescription drugs or preparing for surgery consult with their physician before using St. John's wort or blends containing St. John's wort. Crystal Star formulas that contain small-to-moderate amounts of St. John's wort include: Mood Lift, Crave Eze, Tummy Control, Muscle Relax, Thin After 40, and Fat & Sugar Detox.