Focus
Regular price
$27.35
Sale price
$22.70
Unit price
per
Help Sharpen Mental Focus and Support Recall
Help Sharpen Mental Focus and Support Recall with Bacopa Monnieri & Gotu Kola*
Sharpen mental focus and stay in the zone and on-point.*
This all-natural blend of 12 whole herbs promotes mental clarity, supports memory recall, and helps boost cognitive performance – all without caffeine or other stimulants.*
With Bacopa Monnieri and Gotu Kola to support memory, cognition, and awareness.*
With Chamomile Flower and Valerian Root to promote calmness of thought.*
Tip: Pair with Crystal Star Night Caps to ensure a good night's sleep so you're fresh each morning.
ACTIVE INGREDIENTS
See All
BACOPA MONNIERI
GOTU KOLA
CHAMOMILE FLOWER
VALERIAN ROOT
ALL INGREDIENTS
Chamomile Flower, Catnip, American Skullcap, Bacopa Monnieri Leaf, Gotu Kola Leaf, Lemon Balm, Hawthorn Berry, Licorice Root, Lobelia, Valerian Root, Wild Lettuce, Passionflower
Suggested Use
Take 2 capsules 3 times daily.
Warnings
Do not use if tamper proof seal is damaged or missing. Do not use if pregnant or nursing. Consult a health care professional prior to use if you have any pre-existing medical conditions or are taking any prescription medications. Keep out of reach of children.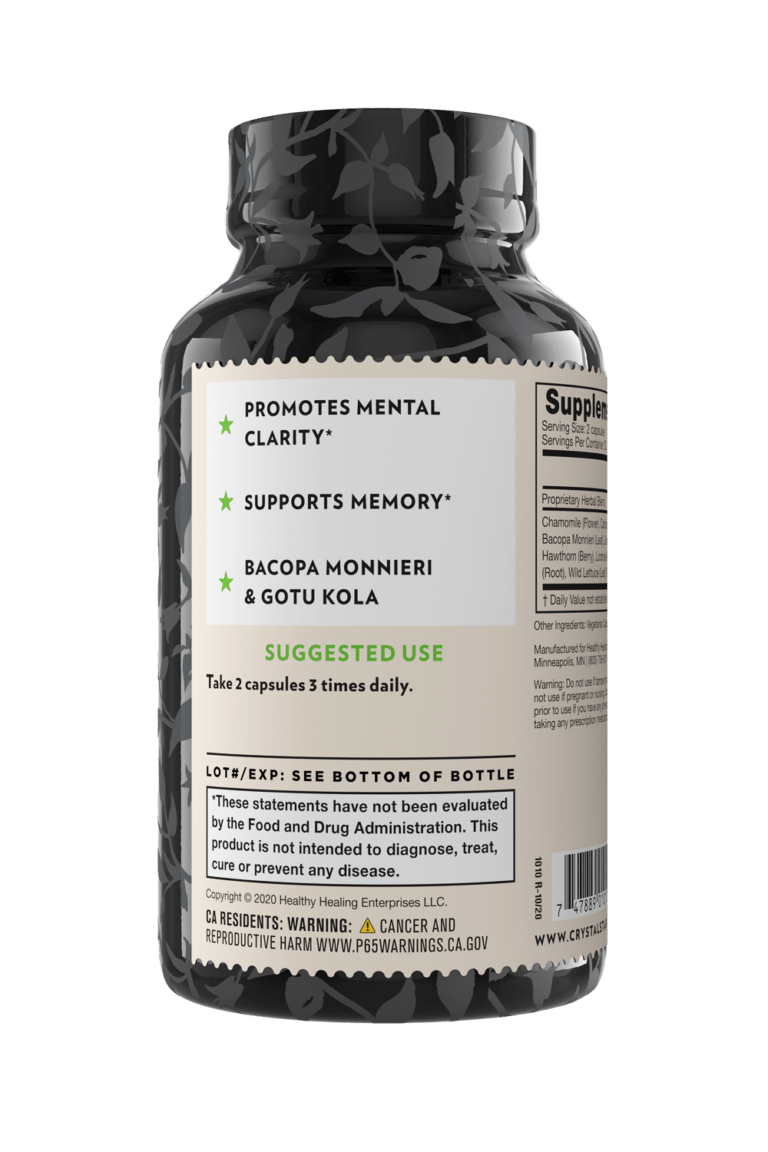 BACOPA MONNIERI
Supports brain health,
memory and cognition.*
GOTU KOLA
An Ayurvedic herb that helps
keep you sharp, not over-stimulated.*
CHAMOMILE FLOWER
Soothes restlessness and
promotes relaxation.*
VALERIAN ROOT
Soothes restlessness
and promotes relaxation.*
Product FAQs
What other products will improve mental and physical energy?
Crystal Star Focus is our go-to for concentration and mental energy.
We recommend Adrenal Support, Male Performance, Men's Libido, Women's Libido and Ocean Minerals as best choices for energy support. Each of these products are high in bioavailable nutrients that encourage and promote the natural function of the endocrine system. They provide a clean energy boost without harsh stimulants.
What's the story on licorice and blood pressure?
Licorice is a widely studied natural antiviral, female hormone balancer, and adaptogenic herb that can help address stress and adrenal fatigue. It's also commonly used as a complementary herb used in modest amounts in both Western and Eastern herbal blends. in very high doses, the licorice "glycyrrhizin" can cause elevated blood pressure.
Since 1978 Crystal Star has focused on the functional benefits of whole herbs formulated with secondary and tertiary supporting ingredients. The amount of Licorice in Focus is just a small part of the 12 whole herb formula. However, we don't recommend any form of licorice for people with a history of renal failure as well as people who are on heart medication or steroid drugs. Please discontinue if you become pregnant.
Can phytoestrogens increase risk for diseases like breast cancer?
While it's true that some herbs like Dong Quai, Red Clover, and Licorice contain natural phytoestrogens (estrogen-like compounds), there is no credible evidence that moderate intake of these herbs in their whole form will increase your risk for estrogen driven disease, like breast cancer.
Dr. Linda Page combined numerous whole herbs in moderate amounts in the formulas. This type of traditional herbal approach reduces the potential for side effects or reactions, and is a primary reason many herbalists choose to blend herbs rather than use high doses of any one herb. The blended herbs in a moderate concentration act more like a food than a drug in the system. They go through normal digestion and elimination like a food, not building up in the system or burdening the body with potential toxicity.
Still, if you have an estrogen-based health problem, it's a good idea to talk to your doctor before using herbs that can affect hormone balance. Other products on the market use concentrated sources of phytoestrogens, or may be otherwise inappropriate for your unique health needs.