Night Caps
Regular price
$27.35
Sale price
$22.70
Unit price
per
Sleep deeply and awake more refreshed
Sleep deeply and awake more refreshed with American Skullcap, Valerian Root, Poppy and Passion Flower*
Sleep disorder. You need sleep, but it won't come. Maybe you can't turn off your brain, or maybe you fall asleep but wake up in the middle of the night.
Nurture the quality of your sleep cycle with this blend of 8 whole herbs that helps improve sleep onset and quality, but without the morning grogginess.*
This non-habit forming, all-natural sleep remedy helps your mind and body rest overnight so you're ready to go the next day.*
With American Skullcap Leaf and California Poppy Leaf (opiate free) to help promote relaxation.*
With Valerian Root & Passion Flower to help with sleep onset and sleep quality.*
Take at least half an hour before bed to help your body into restful sleep.
ACTIVE INGREDIENTS
See All
AMERICAN SKULLCAP LEAF
CALIFORNIA POPPY AERIAL
VALERIAN ROOT
PASSION FLOWER
ALL INGREDIENTS
Valerian Root, American Skullcap, Passion Flower, California Poppy Herb (Aerial), Kava Kava Root, Whole Oat Straw, Gotu Kola Powder, Hops Flower Powder, Taurine, GABA
Suggested Use
Take 2 capsules about ½ hour before bedtime.
Warnings
Do not use if tamper proof seal is damaged or missing. US FDA advises that a potential risk of rare, but severe, liver injury may be associated with kava-containing dietary supplements. Ask a health care professional before use if you have or have had liver problems, frequently drink alcohol or take any medications. Stop use and see a doctor if you develop symptoms that may signal liver problems (e.g. unexplained fatigue, abdominal pain, loss of appetite, fever, vomiting, dark urine, pale stools, yellow eyes or skin). Not for use by persons under the age of 18 or by pregnant or breastfeeding women. Not for use with alcoholic beverages. Excessive use, or use with products that cause drowsiness, may impair your ability to operate a vehicle or heavy equipment. Not for prolonged use. Do not exceed recommended dose. For other contraindications and cautions consult your health care professional. Keep out of reach of children.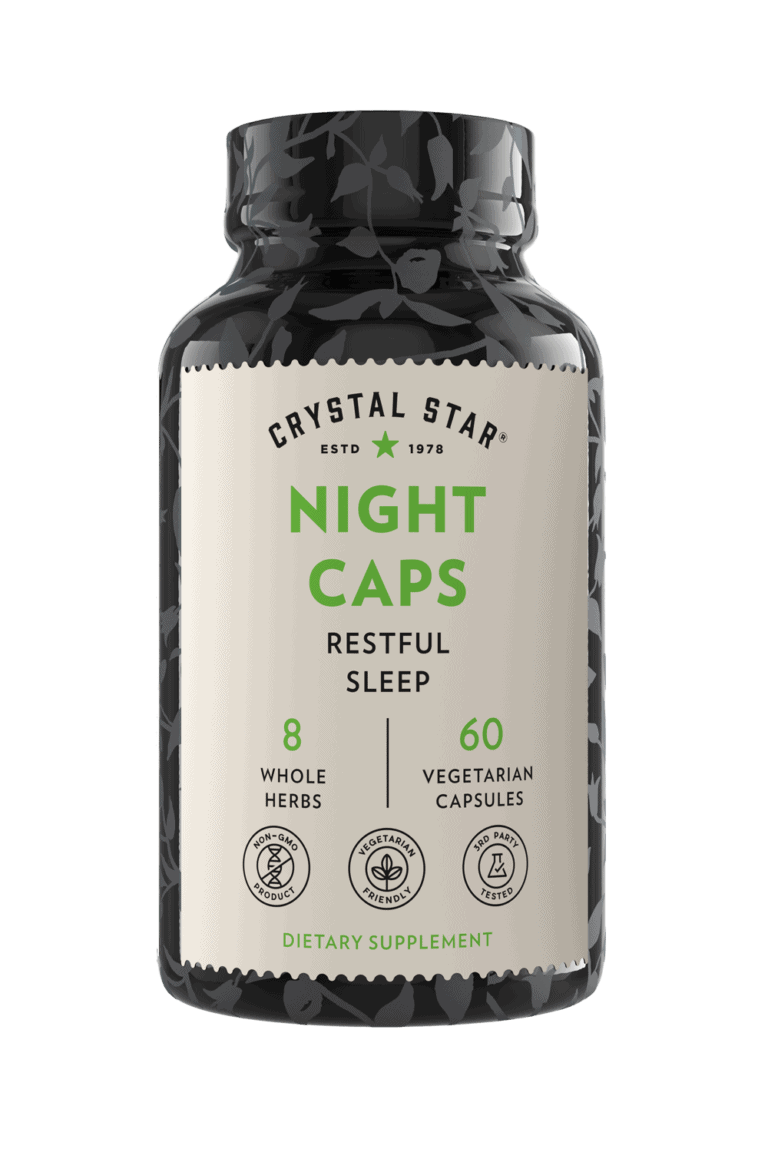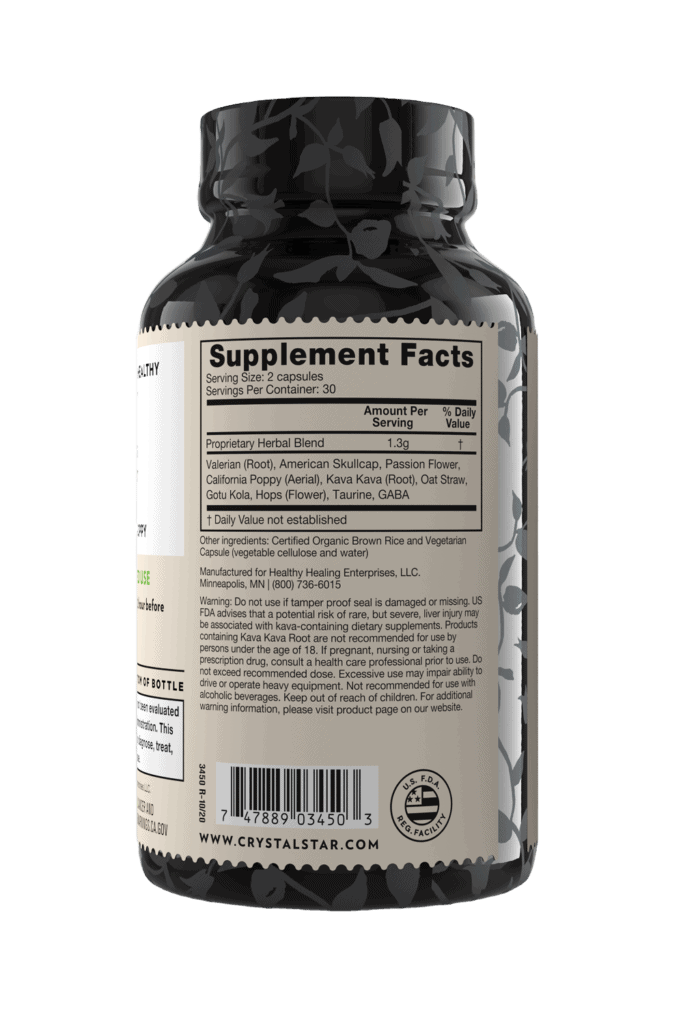 AMERICAN SKULLCAP LEAF
Helps ease nighttime anxiety.*
CALIFORNIA POPPY AERIAL
An opiate-free herb that
promotes relaxation.*
VALERIAN ROOT
Helps sleep onset without
drowsy morning side-effects.*
PASSION FLOWER
Helps improve sleep quality.*
Product FAQs
Is there anything in Night Caps that might cause the opposite effect on some people?
While Valerian promotes sleep effects for most, it can be mildly stimulating to others who are more sensitive, resulting in insomnia or disturbed sleep. However, the amount of Valerian Root in Night Caps is just a small part of the formula of eight whole herbs selected to enhance and complement the individual properties of each herb and nutrient to support sleep onset and sleep quality.
Is Kava Kava Root safe?
Kavakava root has been shown to have calming, muscle-relaxing and stress-reducing properties. The majority of people can enjoy the benefits of kava root when taken in moderation. Since 1978 Crystal Star has focused on the functional benefits of whole herbs formulated with secondary and tertiary supporting ingredients. The amount of Kava kava root in Night Caps is just a small part of the 8 whole herb formula. However, we don't recommend any form of kava for people with a history of alcoholism, pre-existing liver problems, or who are taking prescription drugs.
Is Oat Straw Gluten-free?
Oat Straw does not contain gluten like other grains such as wheat, barley, and rye. It does contain a protein known as avenin that is well tolerated by most people with Celiac disease and those with gluten intolerance or sensitivity. That said, even though the amount of Oat Straw is a very small part of the Night Caps formula, a small minority of people with Celiac disease may be more sensitive to it.