Adrenal Support
Regular price
$27.35
Sale price
$22.70
Unit price
per
Cortisol Supplement for Stress Relief & Adrenal Fatigue
Cortisol Supplement for Stress Relief & Adrenal Fatigue with Siberian Eleuthero, Astragalus, Licorice, & Fo-ti*
Your adrenal glands (resting on top of your kidneys) produce hormones that help regulate your metabolism, immune system, and your response to stress.
Did you know, the more stressed you become, the more cortisol your adrenals secrete, and the lower your thyroid functions? Prolonged stress can also increase inflammation and toxic load, and reduce immunity.
Crystal Star Adrenal Support contains a blend of 14 whole herbs with adaptogenic (stress response supporting) herbs to help balance and support your emotional and physical response to everyday stress and fatigue.*
With a blend of Siberian Eleuthero, Schisandra Fruit, Astragalus Root and Licorice that nourish the adrenals to support healthy response to emotional and mental stress.*
With Ginger and Fo-ti to help revive healthy energy and support the body through bouts of exhaustion and fatigue without stimulants.*
ACTIVE INGREDIENTS
See All
SIBERIAN ELEUTHERO ROOT
ASTRAGALUS ROOT
LICORICE ROOT
SCHISANDRA FRUIT
ALL INGREDIENTS
Astragalus Root, Cayenne Fruit, Certified Organic Brown Rice, Fo-ti Root, Ginger Root, Hawthorn Leaf, Flower, Berry, Irish Moss, Kelp Extract, Licorice Root, Rose Hips, Sarsaparilla Root, Schisandra Fruit, Siberian Eleuthero Root, Uva Ursi Leaf, Vegetarian Capsule vegetable cellulose and water, Watercress
Suggested Use
Take 2 capsules, twice daily, for 1 week. Then 1-2 capsules daily as needed.
Warnings
Do not use if tamper proof seal is damaged or missing. Do not use if pregnant or nursing. Consult a health care professional prior to use if you have any pre-existing medical conditions or are taking any prescription medications. Keep out of reach of children.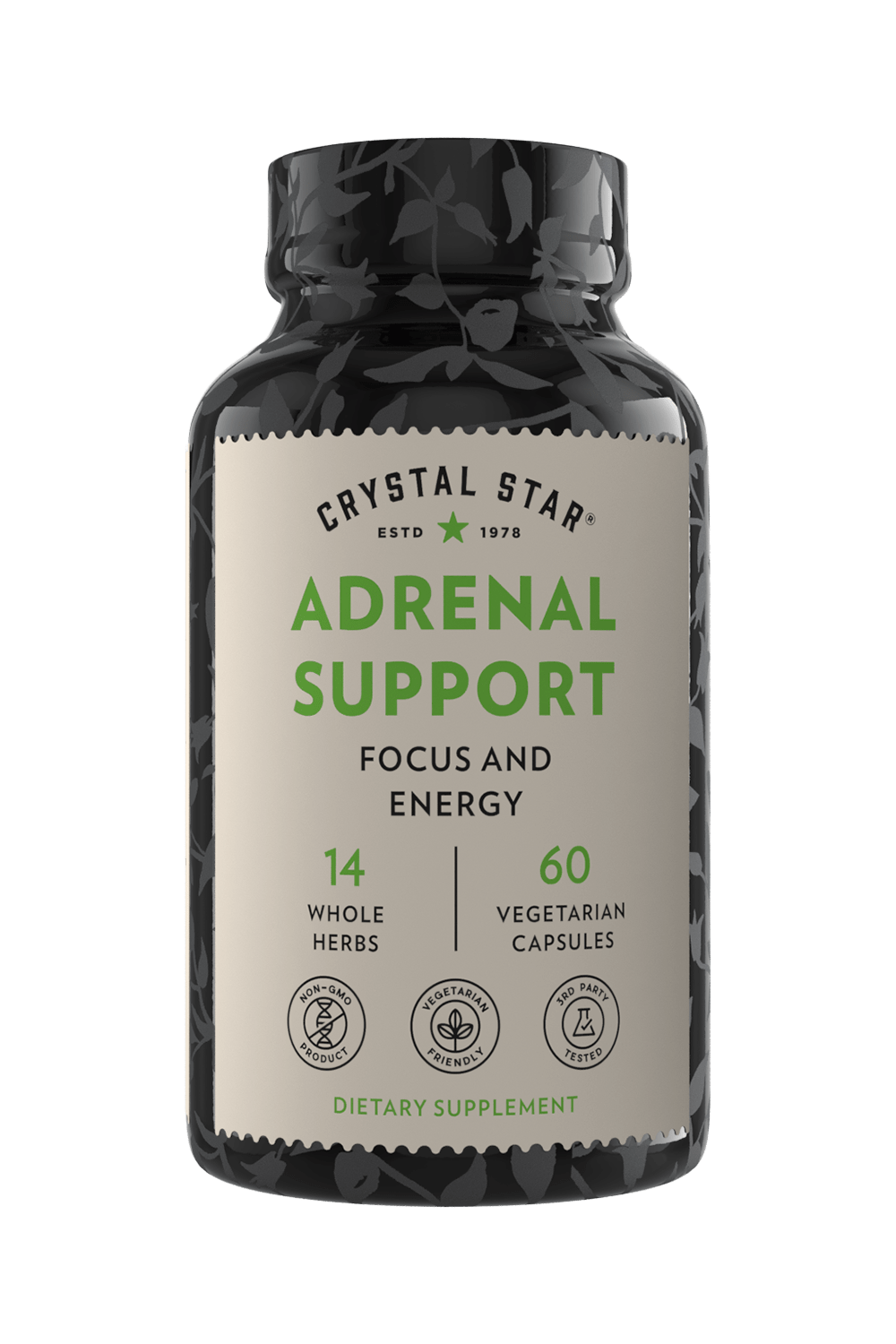 SIBERIAN ELEUTHERO ROOT
An adaptogen that boosts the body's
resistance to stress and fatigue*
ASTRAGALUS ROOT
Supports stress recovery and restores
a healthy immune response.*
LICORICE ROOT
Helps nourish the adrenal system to
support healthy stress response.*
SCHISANDRA FRUIT
Helps calm the
nervous system.*
Product FAQs
What other products improve mental and physical energy?
Adrenal Support is our go-to for reinvigorating the body while counteracting everyday stress that worsens fatigue. Additional choices for energy support are Male Performance, Men's Libido, Women's Libido and Ocean Minerals. All of these products are high in bioavailable nutrients that encourage and promote the natural function of the endocrine system. They provide a clean energy boost without harsh stimulants.
If you're more concerned with concentration and mental energy, Crystal Star Focus is a stimulant-free blend that promotes mental clarity, supports memory recall, and helps boost cognitive performance.
I'm under stress from work. What products will help me?
We recommend Relax or Adrenal Support. They both contain herbal nervines which have been used for centuries to encourage normal nervous system functioning. They can also be used as-needed to ease chronic or acute stress symptoms.
The adaptogens like ashwagandha in Relax help to calm anxiety and the Siberian eleuthero in Adrenal Support will help support the body and mind in times of stress.
What's the story on licorice and blood pressure?
Licorice is a widely studied natural antiviral, female hormone balancer, and adaptogenic herb that can help address stress and adrenal fatigue. It's also commonly used as a complementary herb used in modest amounts in both Western and Eastern herbal blends. in very high doses, the licorice "glycyrrhizin" can cause elevated blood pressure.
Since 1978 Crystal Star has focused on the functional benefits of whole herbs formulated with secondary and tertiary supporting ingredients. The amount of Licorice in Adrenal Support is just a small part of the 15 whole herb formula. However, we don't recommend any form of licorice for people with a history of renal failure as well as people who are on heart medication or steroid drugs. Please discontinue if you become pregnant.
Can phytoestrogens increase risk for diseases like breast cancer?
While it's true that some herbs like Dong Quai, Red Clover, and Licorice contain natural phytoestrogens (estrogen-like compounds), there is no credible evidence that moderate intake of these herbs in their whole form will increase your risk for estrogen driven disease, like breast cancer.
Dr. Linda Page combined numerous whole herbs in moderate amounts in the formulas. This type of traditional herbal approach reduces the potential for side effects or reactions, and is a primary reason many herbalists choose to blend herbs rather than use high doses of any one herb. The blended herbs in a moderate concentration act more like a food than a drug in the system. They go through normal digestion and elimination like a food, not building up in the system or burdening the body with potential toxicity.
Still, if you have an estrogen-based health problem, it's a good idea to talk to your doctor before using herbs that can affect hormone balance. Other products on the market use concentrated sources of phytoestrogens, or may be otherwise inappropriate for your unique health needs.