Muscle Relax
Regular price
$27.35
Sale price
$22.70
Unit price
per
Soothe sore muscles, cramps and occasional aches and pains
Soothe sore muscles, cramps and occasional aches and pains with Jamaica Dogwood, Valerian Root, and Cramp Bark*
Sore or cramped muscles? Minor aches and pains?
This unique 11-herb blend soothes your muscles after workouts or athletic events or training.*
It helps address tissue inflammation, tension, and muscle spasms.*
With Jamaica Dogwood and Valerian Root to help soothe sore muscles and help them relax*
With Cramp Bark to help relieve muscle cramps (helps menstrual pain too).*
With St. John's Wort and Black Haw Bark for anti-inflammatory and relaxation support*
Crystal Star Muscle Relax is one of our top sellers – get great results with this all-natural, 100 plant-based formula for occasional pain relief*
ACTIVE INGREDIENTS
See All
JAMAICA DOGWOOD BARK
VALERIAN ROOT
CRAMP BARK
ST. JOHN'S WORT
ALL INGREDIENTS
Cramp Bark, Jamaica Dogwood Bark, Black Haw Bark, Rosemary, Kava Kava Root, Passion Flower, Valerian Root, Mexican Wild Yam Root, Red Raspberry Leaf, Lobelia Leaf, St Johns Wort
Suggested Use
Take 2-4 capsules, 2-3 times daily, or as needed.
Warnings
Do not use if tamper proof seal is damaged or missing. US FDA advises that a potential risk of rare, but severe, liver injury may be associated with kava-containing dietary supplements. Ask a health care professional before use if you have or have had liver problems, frequently drink alcohol or take any medications. Stop use and see a doctor if you develop symptoms that may signal liver problems (e.g. unexplained fatigue, abdominal pain, loss of appetite, fever, vomiting, dark urine, pale stools, yellow eyes or skin). Not for use by persons under the age of 18 or by pregnant or breastfeeding women. Not for use with alcoholic beverages. Excessive use, or use with products that cause drowsiness, may impair your ability to operate a vehicle or heavy equipment. Not for prolonged use. Do not exceed recommended dose. For other contraindications and cautions consult your health care professional. Keep out of reach of children.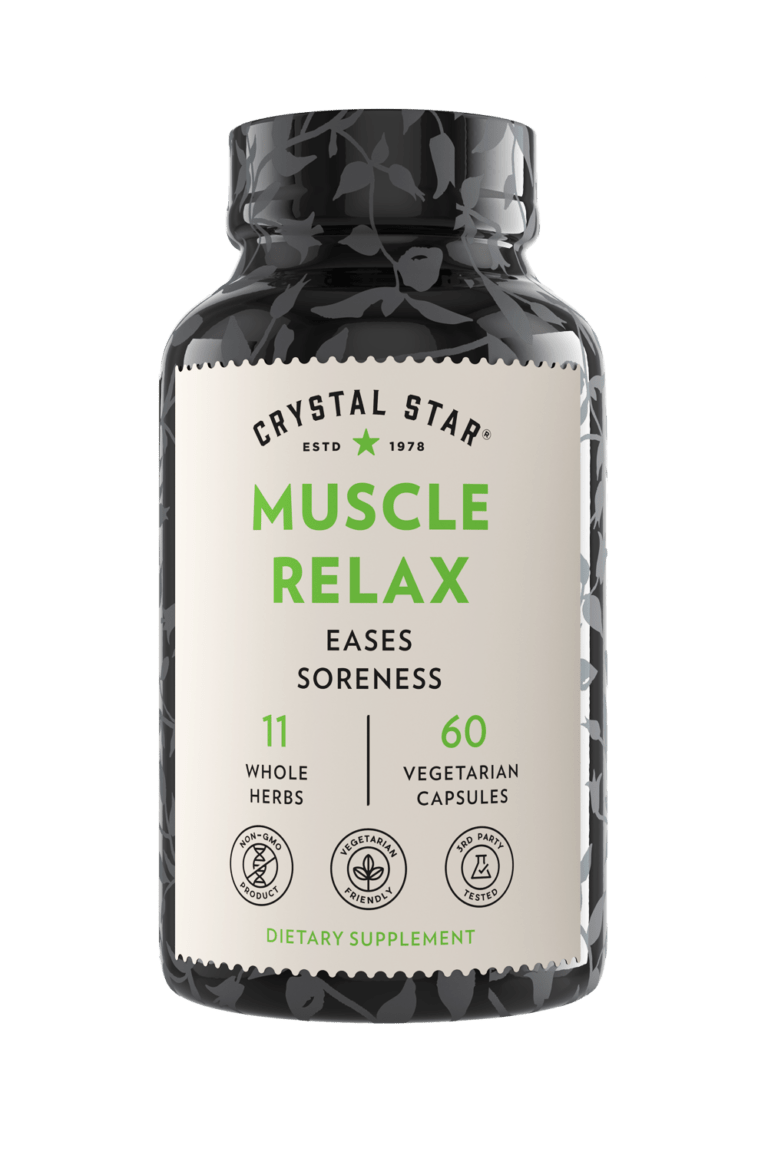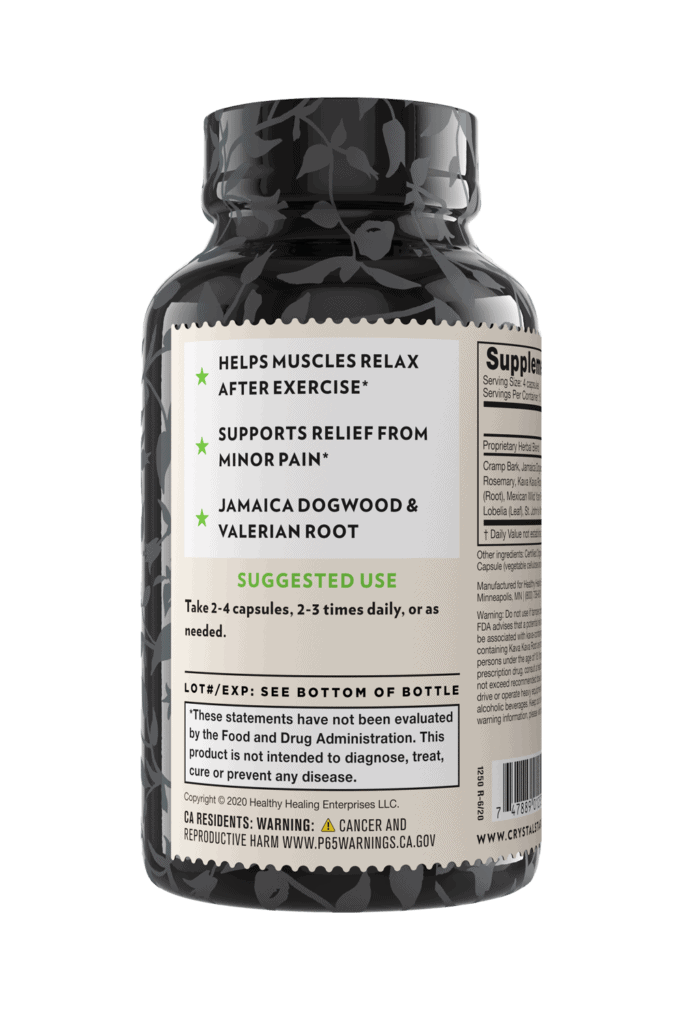 JAMAICA DOGWOOD BARK
A powerful herb for occasional nerve
and muscle pain, including menstrual cramps.*
VALERIAN ROOT
Helps relax muscles after exercise.*
Encourages comfortable rest.*
CRAMP BARK
True to its name, an anti-
inflammatory that eases muscle cramps.*
ST. JOHN'S WORT
Promotes relaxation and helps
soothe occasional nerve pain.*
Product FAQs
Is Kava Kava Root safe?
Kavakava root has been shown to have calming, muscle-relaxing and stress-reducing properties. The majority of people can enjoy the benefits of kava root when taken in moderation. Since 1978 Crystal Star has focused on the functional benefits of whole herbs formulated with secondary and tertiary supporting ingredients. The amount of Kava kava root in Muscle Relax is just a small part of the 11 whole herb formula. However, we don't recommend any form of kava for people with a history of alcoholism, pre-existing liver problems, or who are taking prescription drugs.
What other product do you recommend for aches, pain and muscle stress?
You might consider Inflama Relief if you're prone to joint stress, back pain, or minor headaches. An effective blend of 15 whole herbs that include the anti-inflammatory Turmeric along with White Willow Bark, Goto Kola, Jamaican Dogwood and Uva Ursi will help soothe the body, reduce inflammation response and help the body heal.
What drugs interact with St. John's Wort?
St. John's wort is known for its mood-elevating properties, but it can interfere with many prescription medications such as antidepressants, antibiotics, birth control pills, blood pressure medication, organ transplant medication, HIV medication, anticonvulsants, blood thinners, and asthma medication. We suggest any person taking prescription drugs or preparing for surgery consult with their physician before using St. John's wort or blends containing St. John's wort. Crystal Star formulas that contain small-to-moderate amounts of St. John's wort include: Mood Lift, Crave Eze, Tummy Control, Muscle Relax, Thin After 40, and Fat & Sugar Detox.