Women's Best Friend
Regular price
$27.35
Sale price
$22.70
Unit price
per
Period Support. Help balance your monthly cycle and ease discomfort
Period Support. Help balance your monthly cycle and ease discomfort with Cramp Bark and Red Raspberry*
Is it already that time of the month again? Abdominal cramps, bloating, moodiness. When "Aunt Flo" visits, you may need some extra help.

That's why Dr. Linda Page created "Women's Best Friend". It's for use during your period, to help soothe cramping, ease bloating, and help manage moodiness.*
This 17 whole-herb blend works naturally and holistically to support regularity of your cycle, balance hormones and soothe occasional pain and support uterine and ovarian health.*
With Cramp Bark and Goldenseal Root to help flush toxins and ease monthly discomfort*
With Red Raspberry Leaf and Rehmannia Root to help balance female hormones.*
Related Products: Take Female Harmony for PMS support before your period, and Fibro Defense for overall breast and uterine health.*
ACTIVE INGREDIENTS
See All
CRAMP BARK
RED RASPBERRY LEAF
REHMANNIA ROOT
GOLDENSEAL ROOT
ALL INGREDIENTS
Goldenseal Root, Jamaica Dogwood Bark, Uva Ursi Leaf, Wild Yam Root, Red Raspberry Leaf, Cramp Bark, Ginger Root, Hawthorn Berry, Dong Quai Root, Sarsaparilla Root, Cultivated False Unicorn, European Peony, Blessed Thistle Aerial, Rehmannia Root, Bladderwrack Leaf, Kelp/Rockweed Algae
Suggested Use
Take 2 capsules, 2-3 times daily, during menstruation as needed. Please note: We've updated the suggested use to maximize the formula's efficacy as a menstrual support product. For more information, see the product FAQs.
Warnings
Do not use if pregnant or nursing. Consult a health care professional prior to use if you have any pre-existing medical conditions or are taking any prescription medication. Do not use if tamper proof seal is damaged or missing. Keep out of reach of children.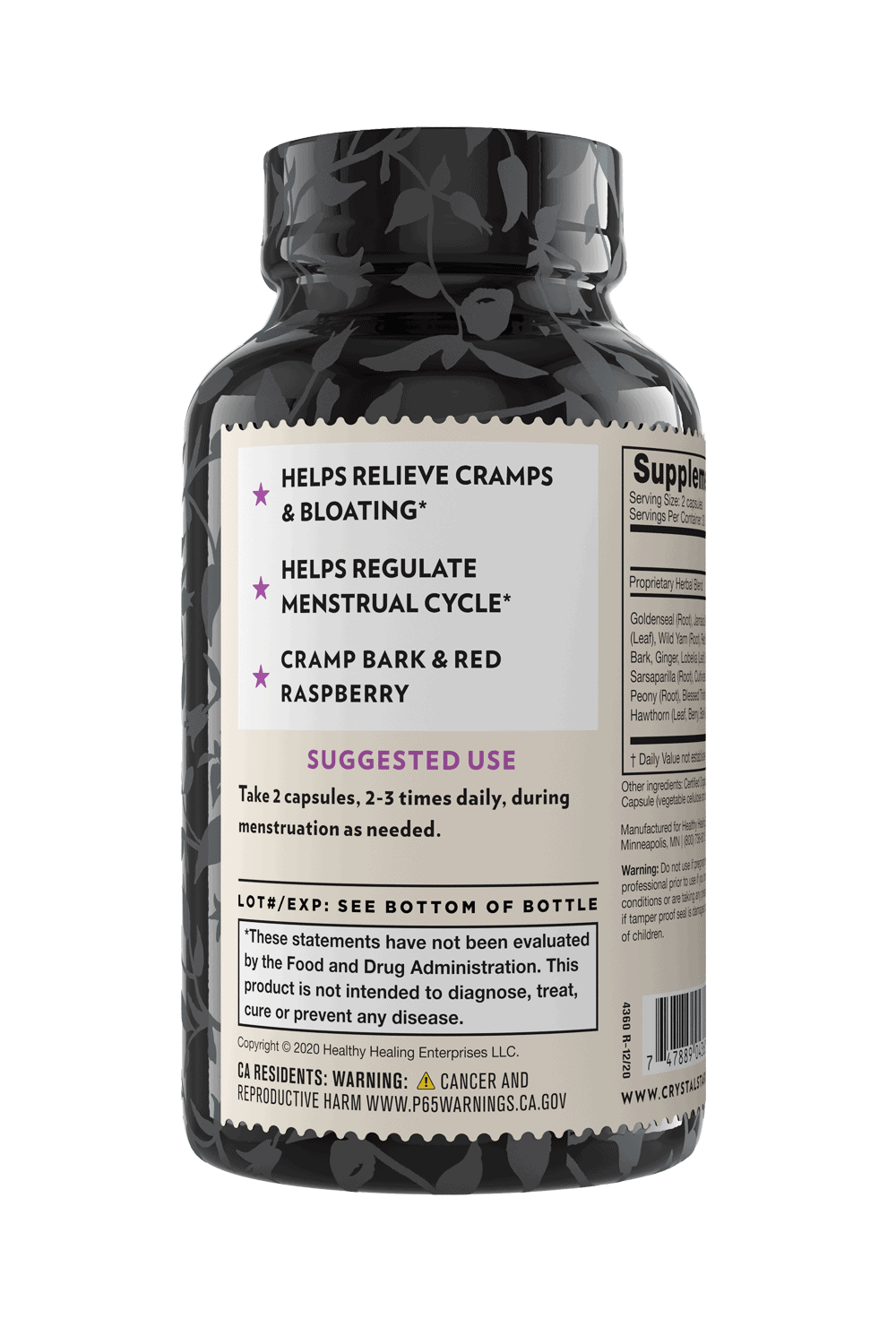 CRAMP BARK
An anti-inflammatory and antispasmodic
herb that helps soothe minor pain and cramps.*
RED RASPBERRY LEAF
Supports uterine health and
a normal menstrual cycle.*
REHMANNIA ROOT
A primary herb in Traditional Chinese Medicine
for female hormone balance and rejuvenation.*
GOLDENSEAL ROOT
An anti-bacterial and anti-inflammatory
that helps flush toxins and ease monthly discomfort.*
Product FAQs
Is Women's Best Friend taken only during menstruation or daily?
Women's Best Friend is for use during the period to ease monthly discomfort, help to regulate your cycle and balance female hormones. We suggest 2 capsules, 2-3 times daily, during menstruation as needed. Discontinue when your period has ended.
Will this product help me with my PMS as well?
The 17 whole herbs in Women's Best Friend are formulated to help soothe cramping, ease bloating, and help manage moodiness during your period. While some women have found this beneficial, others need more support. We recommend Female Harmony in the weeks leading up to your period as a gentle, effective way to get a handle PMS mood swings, bloating, fatigue and hormone triggered tension.
Will Women's Best Friend help with heavy menstrual bleeding?
Women's Best Friend is formulated to support the cycle, promote regularity and bring it into balance. For difficult periods, we recommend rotating Women's Best Friend, during your period, with Fibro Defense in-between periods. The natural immunity boosters and circulation enhancers in Fibro Defense help flush cellular waste, support normal cell function and balance hormones. For best results, rotate these two products for three months.
When beginning herbal therapy, some women may experience temporary cycle shifts. While not everyone experiences these changes, they can be a good sign that the body is responding to the herbs. Cycle shifts related to herbs usually last about 1-3 months but some need to take it for 5-6 months. After you have followed this regimen for a least 3 cycles, we suggest you follow this protocol for one cycle every 3-4 months for maintenance.
I struggle with painful, difficult monthly periods. I feel like I've tried everything but herbs. What products should I try?
While on your period, we suggest Women's Best Friend to help ease your discomfort. Rotate it with Fibro Defense in-between periods to help balance hormones and support normal cell function.
Can phytoestrogens increase risk for diseases like breast cancer?
While it's true that some herbs like Dong Quai, Red Clover, and Licorice contain natural phytoestrogens (estrogen-like compounds), there is no credible evidence that moderate intake of these herbs in their whole form will increase your risk for estrogen driven disease, like breast cancer.
Dr. Linda Page combined numerous whole herbs in moderate amounts in the formulas. This type of traditional herbal approach reduces the potential for side effects or reactions, and is a primary reason many herbalists choose to blend herbs rather than use high doses of any one herb. The blended herbs in a moderate concentration act more like a food than a drug in the system. They go through normal digestion and elimination like a food, not building up in the system or burdening the body with potential toxicity.
Still, if you have an estrogen-based health problem, it's a good idea to talk to your doctor before using herbs that can affect hormone balance. Other products on the market use concentrated sources of phytoestrogens, or may be otherwise inappropriate for your unique health needs.