Herbal Support for the Nervous System
Rhea Humann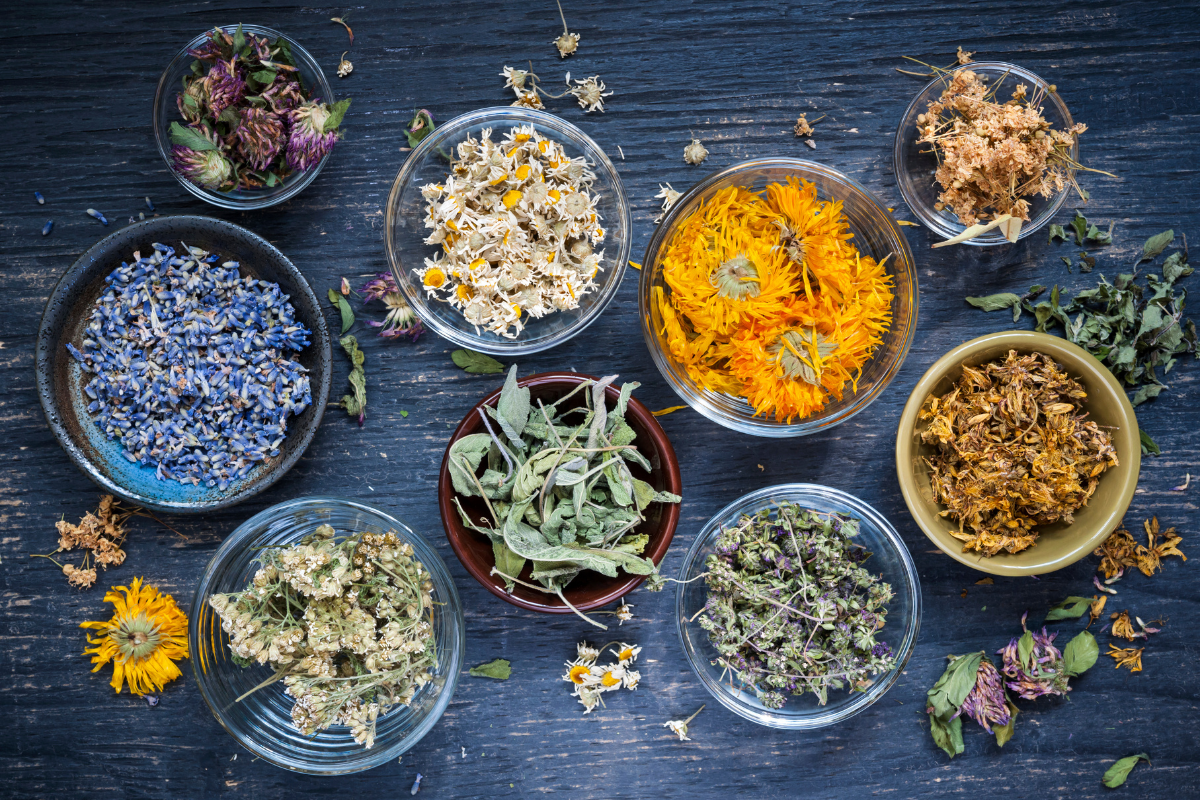 Articles
Couldn't Find what your looking for ?
In today's day and age, its important to keep our nervous system in mind.  I know a lot of folks talk about this, but what does it mean? 
Our nervous system controls our stress responses, our memory, our mental capacity – all the things that make us tick.  So how can we give ourselves a fighting chance against the stresses of our current day-to-day life?
We could discuss diet and lifestyle support, meditation and exercise (all of which are incredible modalities), but if you've found yourself here, it means that you're looking for plant-based healing. You've come to the right place!
Let's talk about the three unique classes of herbs that are a safe and incredible ally to implement into your life. 
Nervine Relaxants
Although this seems pretty self-explanatory, we should define what relaxants are.  This group of herbs is specific to helping your body calm down.  When the physical body is at ease, ease in the psyche is promoted.
Some herbal examples include:
Matricaria recutita (Chamomile)
Scutelleria lateriflora (Skullcap)
Passiflora incarnata (Passionflower)
My favorite example is Passionflower or Passiflora incarnata. This incredible plant, that is included in our blend Night Cap, proves its incredible ability to calm the whole body by hitting multiple points. It works for sleep issues like insomnia, but is also helpful for spiked blood pressure, helps with nervous tension and muscle spasms that get ingrained in the body when under stress.
But! Let's take it a step further.
Nervine Tonics
These herbs are perhaps the most important in strengthening the nervous system because they go deep into the root of your stress and teach your body how to cope.  An incredible example of a nervine tonic is St. John's wort, or Hypericum perforatum.  This natural anti-depressant found in our Mood Lift formula has been used for millennia as an ally for those who work too hard. It aids in fatigue and loss of interest in the things you love– which is a symptom of depression.
Additional herbal examples:
All of these herbs can help in relieving symptoms, but any successful treatment of nervous system problems involves treating the whole body.
There is one more type of nervine herb that encapsulates the entire experience.
Adaptogen
This group of herbs offers a natural form of stress management and helps prevent long-term damage to your body. Although stress is sometimes good for us repeated stress can cause very real physical changes in the body, including harming the neurological, endocrine, and immune systems.  Adaptogens are plants that help the body respond to stress by regulating hormone responses.
One amazing example is Ashwaganda or Withania somnifera.  It has been used for thousands of years to relieve stress, increase energy levels, and improve concentration.  It is featured in many of our formulas including Relax.
Additional adaptogens that can help ease stress and promote calm include:
Rhodiola rosea
Schisandra chinensis
Eleutherococcus senticosus (Siberian ginseng)
Come to terms with stress
Although you can't avoid stress completely, it's comforting to know that all of these amazing herbs are available to deal with it safely and effectively!
Products You Might Love
STAY INFORMED WITH OUR BLOG!
We cover a wide range of topics around natural health and wellness -you don't want to miss out!
SHOP NATURAL SUPPLEMENTS ONLINE
Feel confident every time you purchase a Crystal Star natural supplement. Because we know you'll love our products, we offer a 100% money back guarantee, so you can enjoy all the benefits our essential formulas have to offer, without the worry.
SHOP SUPPLEMENTS