Beautiful Hair & Nails
Regular price
$27.35
Sale price
$22.70
Unit price
per
Help Strengthen, Grow and Beautify Hair & Nails with Horsetail, Alfalfa, & Nettle Leaf*
Help support growth of healthier, fuller, more lustrous hair. Also helps support nail bed, cuticle, and nail health.
Beautiful Skin and Nails contains 14 whole herbs, carefully blended to provide nutrient support for the collagen and protein in hair and nails.*
With Horsetail to support hair growth and fortify nails, adding luster, shine & strength.*
With Organic Alfalfa to help promote cell growth for healthy hair and nail texture.*
With Nettle leaf, a nutrient-rich anti-inflammatory that nourishes hair follicles and promotes smooth, shiny nails.*
Related product – try Beautiful Skin to help moisturize, plump and protect skin.*.
ACTIVE INGREDIENTS
See All
HORSETAIL
ORGANIC ALFALFA
SAGE LEAF
NETTLE LEAF
ALL INGREDIENTS
Bladderwrack, Cayenne Fruit, Certified Organic Brown Rice, Dulse Leaf, Ginger, Horsetail, Irish Moss, Kelp, Nettle Leaf, Oatstraw, Organic Alfalfa Leaf, Parsley Leaf, Rosemary Leaf, Sage Leaf, Vegetarian Capsule vegetable cellulose and water, Watercress
Suggested Use
Take 1 capsule, 3 times daily, for 1-2 months. For maintenance, 1 capsule daily.
Warnings
Do not use if tamper proof seal is damaged or missing. Do not use if pregnant or nursing. Consult a health care professional prior to use if you have any pre-existing medical conditions or are taking any prescription medications. Keep out of reach of children.
Save with Bundles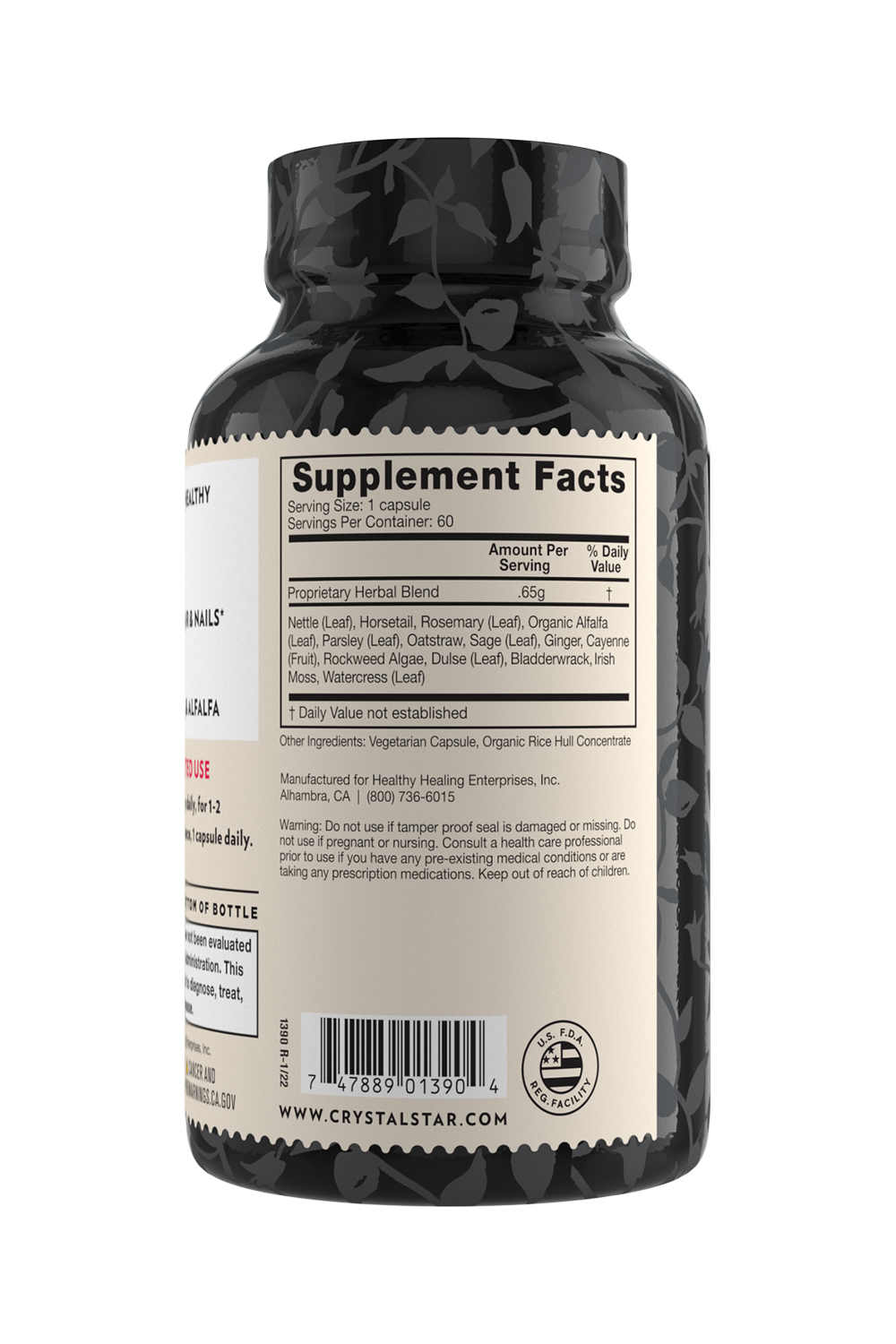 HORSETAIL
Rich in silica, this whole herb aids hair growth
and helps fortify brittle nails.*
ORGANIC ALFALFA
Promotes cell growth for
healthy hair and nail texture.*
SAGE LEAF
Antioxidant properties boost
blood flow to the scalp.*
NETTLE LEAF
A nutrient-rich anti-inflammatory that nourishes
hair follicles and promotes shiny nails.*
Product FAQs
Is Oat Straw Gluten-free?
Oat Straw does not contain gluten like other grains such as wheat, barley, and rye. It does contain a protein known as avenin that is well tolerated by most people with Celiac disease and those with gluten intolerance or sensitivity. That said, even though the amount of Oat Straw is a very small part of the Beautiful Hair and Nails formula, a small minority of people with Celiac disease may be more sensitive to it.