Ocean Minerals
Regular price
$27.35
Sale price
$22.70
Unit price
per
Daily Nutrients to Support Strong Bones & a Healthy Metabolism
Daily Nutrients: Get your Super Greens & Minerals to Support Strong Bones and Healthy Metabolism - with Spirulina, Seaweed blend, Sea Buckthorn Berry & Organic Alfalfa Leaf *
What if you could get a daily multi-vitamin that's plant-based and sourced from the sea? Now you can.
Ocean Minerals is a blend of 12 herbs and green superfoods (algae & seaweed) that's high in essential vitamins and minerals.*
This daily supplement supports general nutrition, bone strength, tissue flexibility, and metabolism.* Also supports a normal thyroid.*
Did you know that minerals from plant sources (in this case, calcium, iodine and potassium from seaweed) are more bio-available to the body than from inorganic sources?
Tip – also great for supporting lustrous hair, skin and nails.*
ACTIVE INGREDIENTS
See All
SPIRULINA
SEAWEED BLEND
SEA BUCKTHORN BERRY
ORGANIC ALFALFA LEAF
ALL INGREDIENTS
Organic Alfalfa Leaf, Watercress, Spirulina, Dulse, Sea Buckthorn Berry, Irish Moss, Dandelion Root, Dandelion Leaf, Nettle Leaf, Barley Grass, Butchers Broom Root, Potassium Chloride, Potassium Iodide, Potassium Chloride, Gentian Root, L-Glutamine, Kelp
Suggested Use
Take 2 capsules daily as a general nutrition supplement.
Warnings
Do not use if tamper proof seal is damaged or missing. Do not use if pregnant or nursing. Consult a health care professional prior to use if you have any pre-existing medical conditions or are taking any prescription medications. Keep out of reach of children.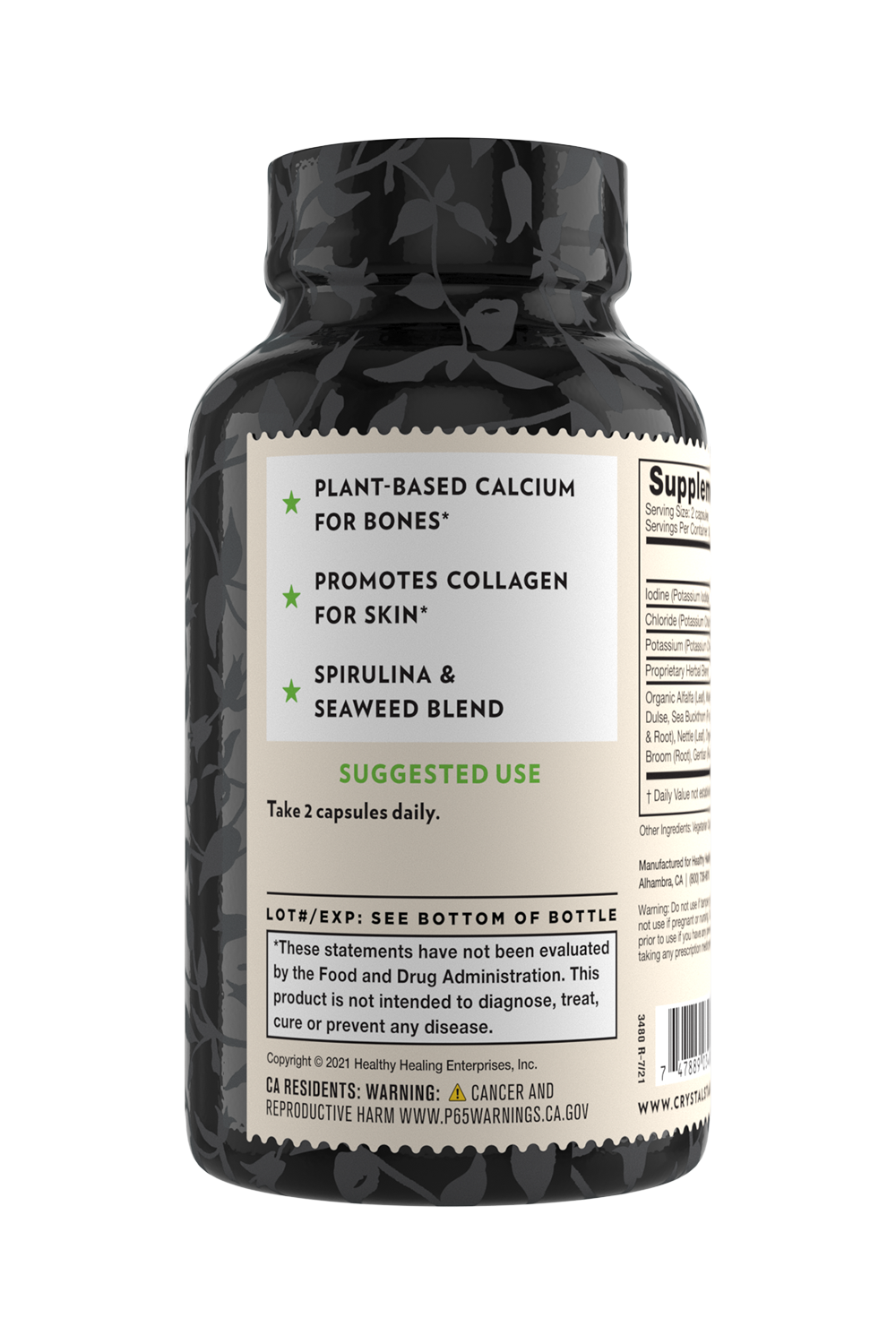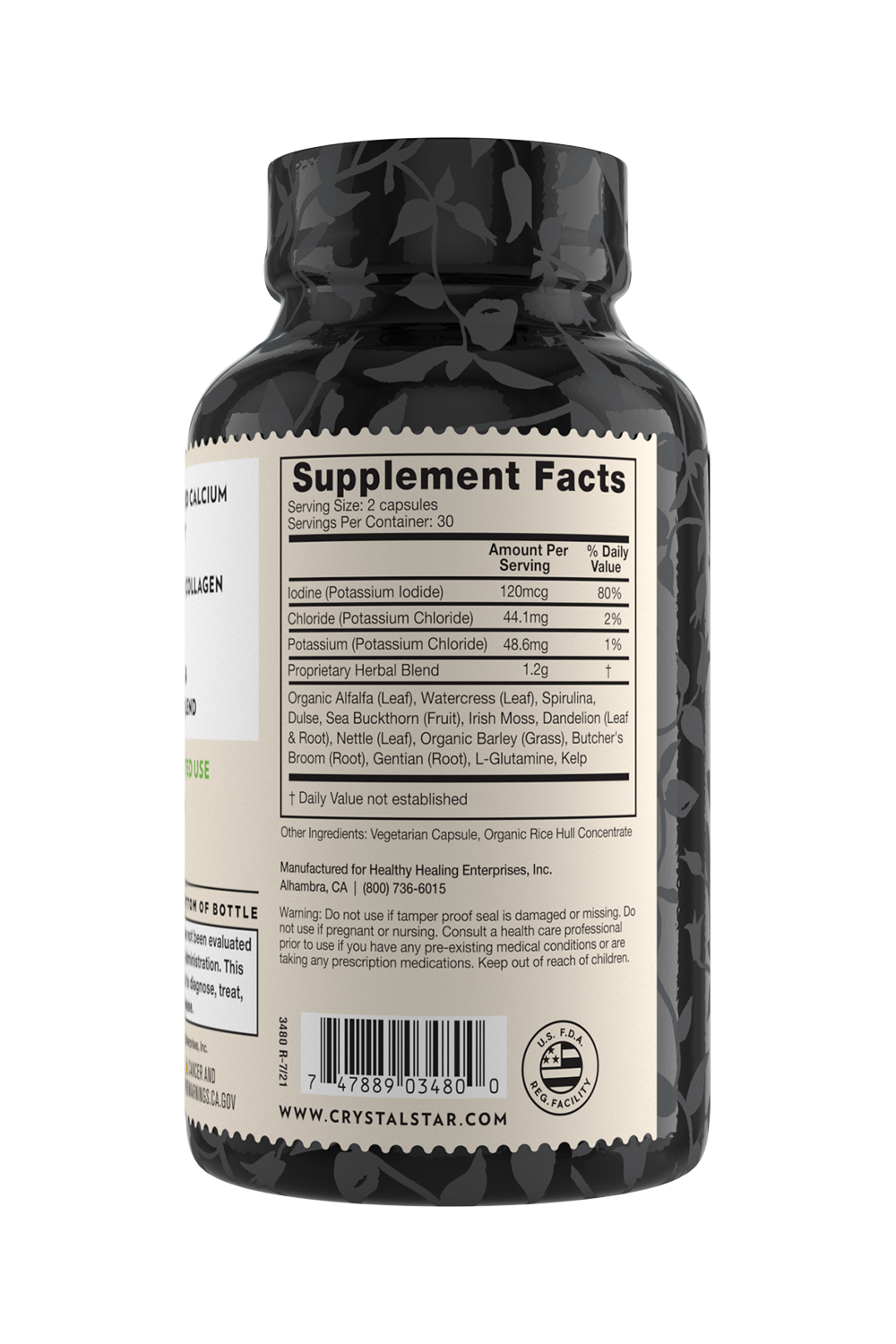 SPIRULINA
This antioxidant blue green algae superfood is
rich in protein, iron, calcium, Vitamin B12 and essential fatty acids.*
SEAWEED BLEND
A potent natural source of potassium, calcium,
iodine and silica for strong bones and healthy hair, skin & nails.*
SEA BUCKTHORN BERRY
A bio-available source of Vitamin C
that supports collagen and elastin.*
ORGANIC ALFALFA LEAF
A rich source of nutrients for
cellular health & wellness.*
Product FAQs
What products improve mental and physical energy?
Adrenal Support, Male Performance, Men's Libido, Women's Libido, and Ocean Minerals are our best choices for energy support. These products are high in bioavailable nutrients that encourage and promote the natural function of the endocrine system. They provide a clean energy boost without harsh stimulants.
For people with exhausted adrenals (that's most of us today), Adrenal Support is our go-to for reinvigorating the body while counteracting daily stress that worsens fatigue.
If you're more concerned with concentration and mental energy, Crystal Star Focus is a stimulant-free blend that promotes mental clarity, supports memory recall, and helps boost cognitive performance.