NAD+ Gummies (Lemon)
Regular price
$49.95
Sale price
$39.95
Unit price
per
Cellular Energy for Healthy Aging with Nicotinamide Riboside*
The First NAD+ Gummy with Nicotinamide Riboside* for Cellular Energy for Healthy Aging

NAD+ (Nicotinamide adenine dinucleotide) is made naturally in the body and is a key building block for cellular health. Strong cells create energy, help fuel muscles, boost immunity, repair cellular structure, and fight oxidation and free radicals*.
Unfortunately, as we age, we produce less NAD in our bodies. Add it back with Crystal Star NAD+!
Crystal Star brings you the most bio-available source of NAD, using a proprietary blend of NAD building blocks (NAM – niacinamide) and Ribose (BioEnergy RiaGev®)*
This formula provides a higher concentration and better distribution of NAD compared to competitive products, and it also helps your cells make more ATP (energy).*
That means you get more energy and fuel for cellular processes - like faster muscle recovery after exercise, or help with brain and cardiovascular function and repair.*
Plant-based, sourced from non-GMO maize and wrapped in vegetarian capsules.
A great daily supplement, with essential nutrients to help you live better, longer.*
ACTIVE INGREDIENTS
See All
BIOENERGY RIAGEV™
NIACIN (AS NICOTINAMIDE)
ALL INGREDIENTS
The First NAD+ Gummy with Nicotinamide Riboside* for Cellular Energy
Suggested Use
Take 2 gummies, once daily, consistently for best results. May take up to 4 gummies per day. Health benefits generally occur after 3+ weeks of regular use.*
Warnings
Do not use if tamper proof seal is damaged or missing. Do not use if pregnant or nursing. Consult a health care professional prior to use if you have any pre-existing medical conditions or are taking any prescription medications. Keep out of reach of children.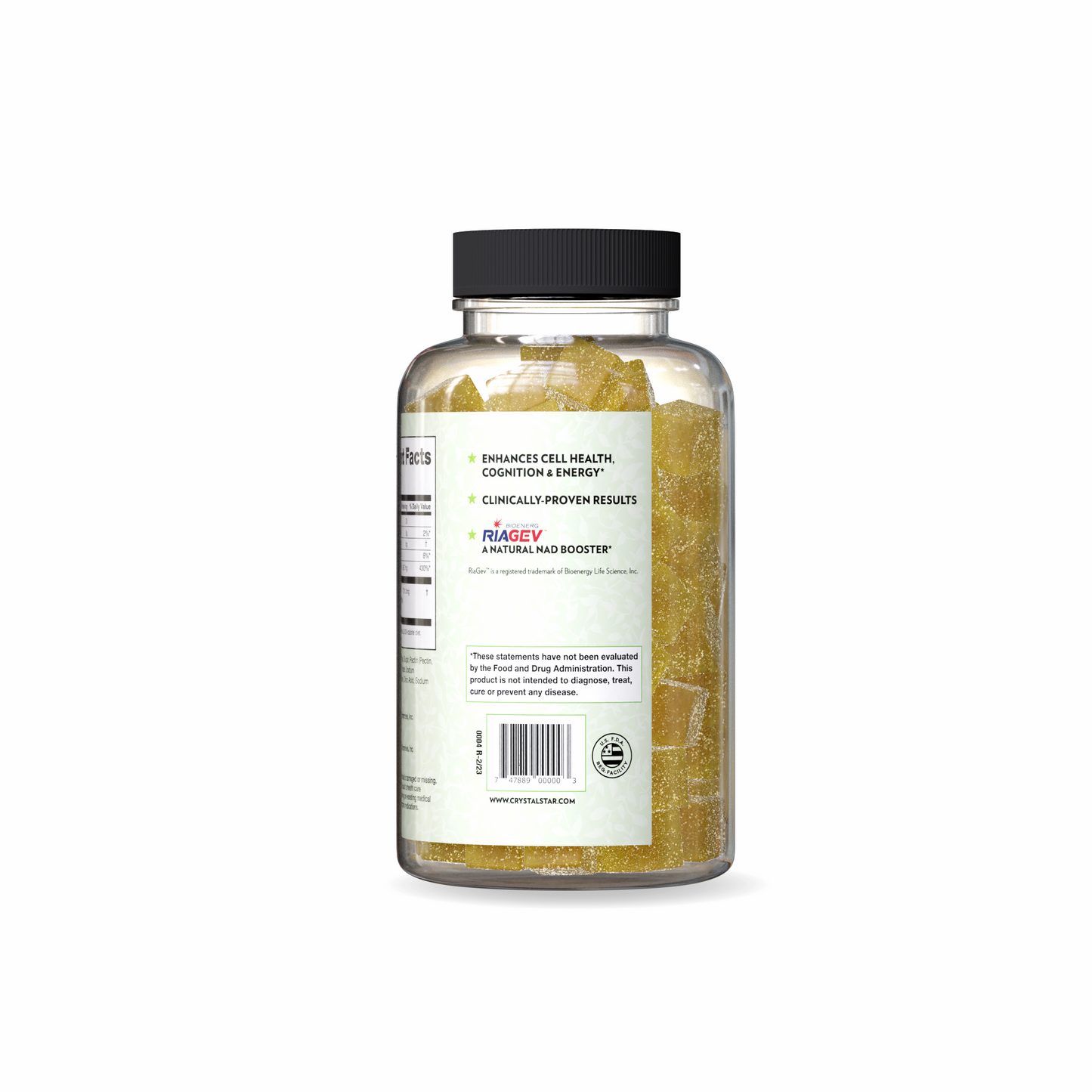 BIOENERGY RIAGEV™
A natural sugar that the body uses at
the cellular level to create energy for all life functions.*
NIACIN (AS NICOTINAMIDE)
A B Vitamin that's made and used by your body to turn food into energy.
It helps keep your nervous system, digestive system and skin healthy.*