Cellulite Tone
Regular price
$27.35
Sale price
$22.70
Unit price
per
Helps the Body Burn Fat and Tone Skin
Help the body burn fat and tone skin with Gotu Kola, Fenugreek, Turmeric and Burdock Root*
Cellulite Tone contains a blend of 19 whole herbs that work together to help break down and release fats, plus support circulation for supple-looking skin.*
With Fenugreek Seed and Lecithin to hep burn excess fat and balance cholesterol.*
With Gotu Kola to promote healthy connective tissue and minimize the appearance of cellulite.*
With Burdock Root, an antioxidant herb that helps cleanse the body and supports normal blood sugar.*
Directions:  Take 1-2 capsules, up to 3 times daily, with meals.
ACTIVE INGREDIENTS
See All
FENUGREEK SEED
LECITHIN
GOTU KOLA
TURMERIC EXTRACT
ALL INGREDIENTS
Gotu Kola, Fenugreek, Ginger, Gingko Biloba, Lecithin, Kola Nut, Burdock, White Sage, Black Cohosh, Goldenseal, Bilberry, Poria, Guar Gum, Red Sage, Ornithine Aspartate, Choline Bitartrate, Fennel, Turmeric Extract, Vitamin B6, Kelp, Watercress, Irish Moss, Bladderwrack
Suggested Use
Take 1-2 capsules, 3 times daily, with meals.
Warnings
Contains Lecithin from Soy. May Contain Tree Nuts (Ginkgo). Do not use if pregnant or nursing. Keep out of reach of children. Consult a health care professional prior to use if you have any pre-existing medical conditions or are taking any prescription medications. Do not use if tamper proof seal is damaged or missing.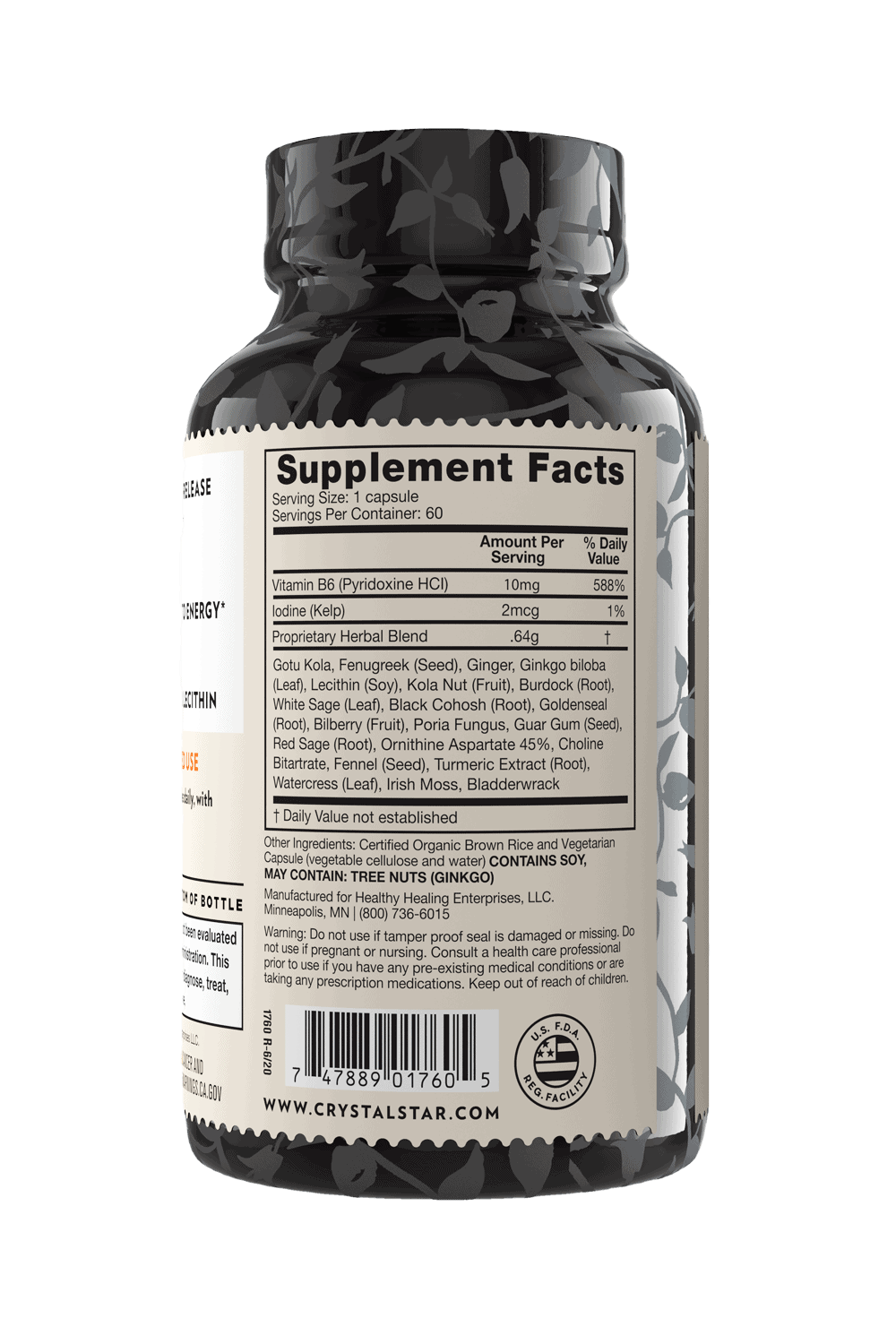 FENUGREEK SEED
Helps burn excess fat and
balance cholesterol.*
LECITHIN
Helps burn excess fat and
balance cholesterol.*
GOTU KOLA
Promotes healthy connective tissue to
help minimize the appearance of cellulite.*
TURMERIC EXTRACT
Stimulates circulation and
may help reduce fat cell growth.*
Product FAQs
Does Cellulite Tone work on its own or should I take something else with it?
Yes, Cellulite Tone is very effective in helping to release trapped fats, shrink cellulite cells and balance hormones. We also recommend following a diet high in whole, nutritious foods.
Can I take Cellulite Tone and Thin After 40 together?
Yes, our formulas can be used together. In fact, many customers use a variety of our products regularly. We recommend using 2 – 4 Crystal Star formulas at a time for the best results.