Thin After 40
Regular price
$27.35
Sale price
$22.70
Unit price
per
Kickstart your metabolism, burn fat and curb cravings naturally
Kickstart your metabolism, burn fat and curb cravings naturally, with Green Tea, Garcinia Cambogia, Siberian Eleuthero and Burdock*
After the age of 40, our metabolism naturally slows down and it gets tougher to maintain or reach our health, fitness, or weight goals.
Thin After 40 is a blend of 24 whole herbs, vitamins and amino acids. This formula supports fat conversion into energy and helps suppress appetite and cravings that might derail your efforts.*
With Green Tea and Garcinia Cambogia to help you safely boost metabolism, break down fat, and manage appetite.*
With Siberian Eleuthero Root and Dandelion Root to help boost energy, support normal blood sugar, and encourage normal fat metabolism.*
Take 1-2 capsules, twice daily.
Related Products: Cellulite Tone, Tummy Control (especially for menopausal weight help) and Fat & Sugar Detox
ACTIVE INGREDIENTS
See All
GREEN TEA LEAF
GARCINIA CAMBOGIA FRUIT
SIBERIAN ELEUTHERO ROOT
DANDELION ROOT
ALL INGREDIENTS
Green Tea Leaf, Garcinia Cambogia, CLA, Chickweed, Acetyl-L-Carnitine HCl, Mustard Seed, Gymnema Extract, Dandelion Root, St. John's Wort, White Tea Leaf, Coleus Forskohlii, Siberian Eleuthero, Uva Ursi Leaf, Bitter Orange Peel, Guarana, Kola Nut, Cayenne Fruit, Kelp Extract, Bladderwrack, Watercress Leaf
Suggested Use
Take 1-2 capsules, twice daily, (a.m. and mid-day) with meals, for 2 months. Then 1 capsule daily as needed.
Warnings
Do not use if pregnant or nursing. Keep out of reach of children. Consult a health care professional prior to use if you have any pre-existing medical conditions or are taking any prescription medications. Do not use if tamper proof seal is damaged or missing.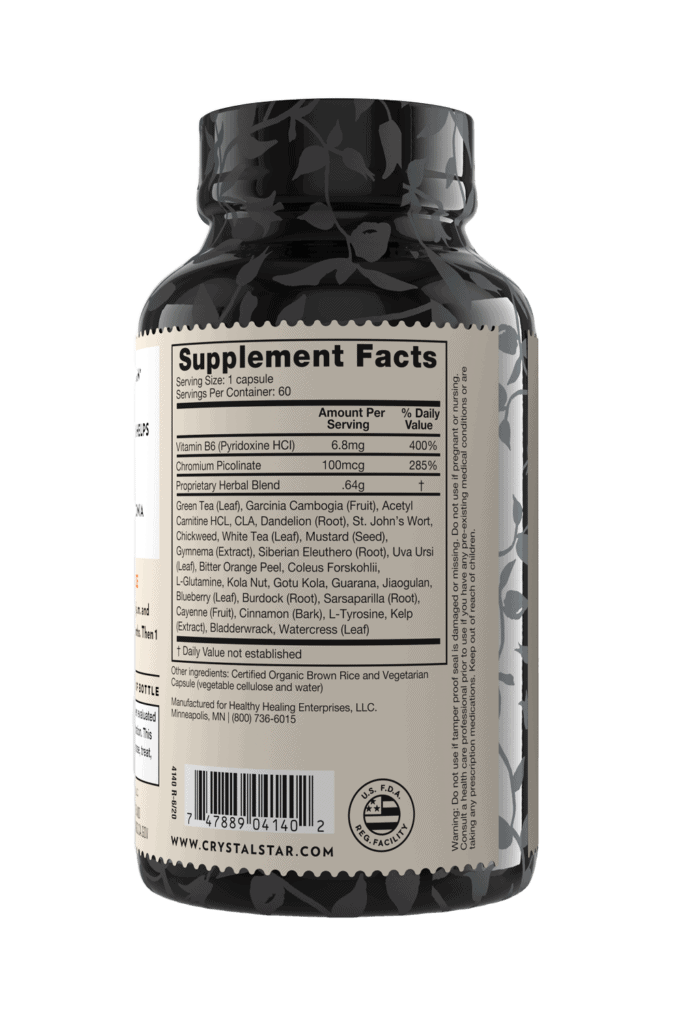 GREEN TEA LEAF
Caffeine and antioxidant catechins
help boost overall metabolism.*
GARCINIA CAMBOGIA FRUIT
Helps suppress appetite
and inhibit fat production.*
SIBERIAN ELEUTHERO ROOT
Helps boost energy and
balance normal blood sugar.*
DANDELION ROOT
Encourages normal
fat metabolism.*
Product FAQs
Should this be taken on an empty stomach or with a meal?
Thin After 40 is best taken with meals, 1-2 capsules twice daily, for two months, then 1 capsule daily as needed.
How much caffeine is in Thin After 40?
Two of the many beneficial herbs in this formula do contain caffeine: Green Tea Leaf and White Tea Leaf. Generally, a cup of either would contain 50 to 55 mg of caffeine. In comparison, 2 capsules of Thin After 40 would contain approximately 20 to 25 mg of caffeine, total.
How is Thin After 40 different than Tummy Control? Aren't they both for weight loss?
Thin After 40 kickstarts metabolism that can slow down after age 40. This formula supports fat conversion into energy and helps suppress appetite and cravings.
Tummy Control addresses the hormone-related changes which impact metabolism. It helps inhibit fat production, supports normal metabolism, and calms the stress response.
Can I take Thin After 40 along with Tummy Control?
Yes, you can take these two together, however you might consider half doses of each as they are both in the weight loss category and have similarities in ingredients and benefits.
What drugs interact with St. John's Wort?
St. John's wort is known for its mood-elevating properties, but it can interfere with many prescription medications such as antidepressants, antibiotics, birth control pills, blood pressure medication, organ transplant medication, HIV medication, anticonvulsants, blood thinners, and asthma medication. We suggest any person taking prescription drugs or preparing for surgery consult with their physician before using St. John's wort or blends containing St. John's wort. Crystal Star formulas that contain small-to-moderate amounts of St. John's wort include: Mood Lift, Crave Eze, Tummy Control, Muscle Relax, Thin After 40, and Fat & Sugar Detox.