Male Performance
Regular price
$27.35
Sale price
$22.70
Unit price
per
Daily Nutrients to Support Energy and Recovery
Daily Nutrients to Support Energy and Recovery with Wild Green Oats, Maca, Ginkgo Biloba and Ginseng*
As men age, testosterone levels naturally decline. This can reduce overall energy levels and feelings of well-being. We can help.
For greater energy and vitality (both on the sport court and in the bedroom) try this plant-based daily nutritional supplement for men. This is an everyday, long-term use supplement to support men's vitality. For same day activity, try Men's Libido.*
This blend of 21 whole herbs and vitamins is uniquely formulated to support both athletic and sexual energy – for help with energy, endurance, circulation and muscle recovery.*
With Wild Green Oats and Maca to help support normal testosterone levels, energy and vitality.*
With Ginkgo Biloba and American Ginseng, both high in antioxidants that help with circulation and physical endurance.*
Get back your edge, boost stamina and support hormone balance to achieve your best self. *
Best if used long term as a daily men's nutritional supplement.*
Note - For more immediate short-term sexual energy, try Men's Libido.
ACTIVE INGREDIENTS
See All
WILD GREEN OATS
MACA ROOT
GINKGO BILOBA LEAF
AMERICAN GINSENG ROOT
ALL INGREDIENTS
Ginkgo Biloba Leaf, Wild Green Oats, American Ginseng Root, Siberian Eleuthero Root, Maca Root, Gotu Kola, Saw Palmetto Berry, Nettle Leaf, Chinese Red Ginseng Root, Fo-ti Root, Muira Puama Root, Guarana Seed Extract, Rhodiola Rosea Leaf, L Glutamine, Damiana Leaf, Sarsaparilla Root, Horny Goat Weed, Tribulus Terrestris Root, Wild Yam Root, Ginger Root, Dandelion Root, Zinc, Vitamin B3, Royal Jelly, Spirulina
Suggested Use
Take 1 capsule, twice a day, morning and afternoon. May be used as a daily men's nutritional supplement.
Warnings
Keep out of reach of children. Consult a health care professional prior to use if you have any pre-existing medical conditions or are taking any prescription medications. Do not use if tamper proof seal is damaged or missing.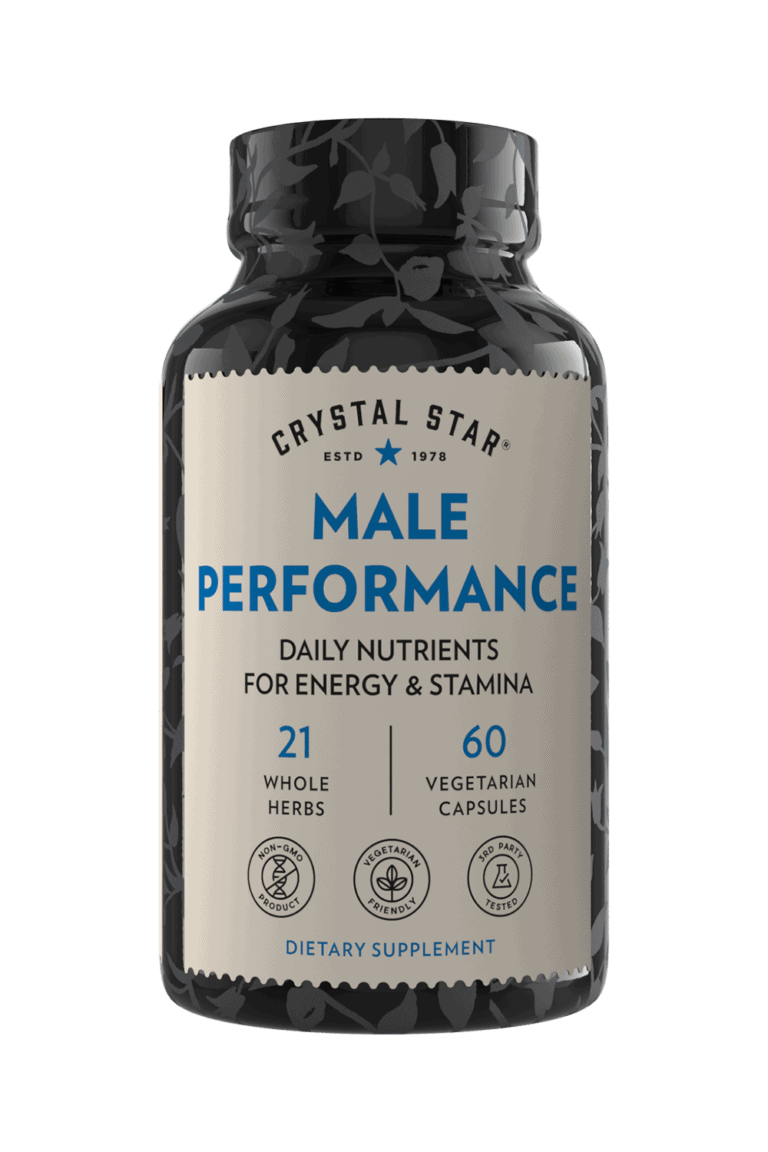 WILD GREEN OATS
Supports libido, hormone
health and strong muscles.*
MACA ROOT
A superfood staple of Peru that
helps boost mood, sexuality and stamina.*
GINKGO BILOBA LEAF
A potent antioxidant that supports circulation
for optimal athletic and sexual performance.*
AMERICAN GINSENG ROOT
Supports hormone health, physical performance and vitality.*
A powerful adaptogen that helps the body cope with stress.*
Product FAQs
What is the difference between Male Performance and Men's Libido?
Male performance is an everyday, long-term use supplement to support testosterone levels for optimal athletic and sexual performance. This supplement promotes energy, endurance circulation, and muscle recovery.
For more immediate short-term sexual energy, Men's Libido is an aphrodisiac made from whole herbs, select amino acids and vitamins to help support hormone balance and sexual health – including desire, arousal and satisfaction.
Can I take Male Performance and Men's Libido together?
It is safe to use both products together but we recommend starting with one. If, after one month you feel that you could use additional support, feel free to add the second product to your routine.
What products improve mental and physical energy?
Adrenal Support, Male Performance, Men's Libido, Women's Libido, and Ocean Minerals are our best choices for energy support. These products are high in bioavailable nutrients that encourage and promote the natural function of the endocrine system. They provide a clean energy boost without harsh stimulants.
For people with exhausted adrenals (that's most of us today), Adrenal Support is our go-to for reinvigorating the body while counteracting daily stress that worsens fatigue.
If you're more concerned with concentration and mental energy, Crystal Star Focus is a stimulant-free blend that promotes mental clarity, supports memory recall, and helps boost cognitive performance.