Women's Libido
Regular price
$27.35
Sale price
$22.70
Unit price
per
Enhance your desire and get in the mood
Enhance your desire and get in the mood with Wild Green Oats, Maca and American Ginseng.*
Fluctuations in female hormones can significantly impact desire for physical intimacy at any life stage.
If your libido is lower than you'd like, or if your interest in sex is waning, there are well-known herbs, proven for centuries, that can help get your engine revving again.
Crystal Star Women's Libido is blend of 16 whole herbs, carefully crafted to work together to support normal hormone health, help boost energy and libido, and support arousal and sexual response.*
With Maca Root and Wild Green Oats, both natural energy and desire enhancers, to help support the body's sexual response.*
With American Ginseng, Siberian Ginseng (also known as Siberian Eleuthero Root), and Tribulus Terrestris Fruit to help boost mood, support ongoing energy, and help the body with stress.*
Related product: Try our Women's Dryness Extract to help with feminine dryness.*
ACTIVE INGREDIENTS
See All
WILD GREEN OATS EXTRACT
MACA ROOT
AMERICAN GINSENG ROOT
SIBERIAN ELEUTHERO ROOT
ALL INGREDIENTS
Wild Green Oats Extract, Tribulus Terrestris Fruit, Maca Root, Siberian Eleuthero Root, American Ginseng Root, Ginkgo Biloba Leaf, Red Ginseng Root, Rhodiola Rosea Root, Ashwagandha Root, Catuaba Bark, Guarana Seed, Kola Nut, Fo-ti Root, Gotu Kola, L-Tyrosine, Royal Jelly, Ginger Root, Cayenne Pepper Fruit
Suggested Use
Take 2 capsules in the morning and 2 capsules in the afternoon as needed. Contains mild stimulants (Kola Nut, Maca, Guarana) similar to a cup of tea, so best not to take at night.
Warnings
Do not use if pregnant or nursing. Consult a health care professional prior to use if you have any pre-existing medical conditions or are taking any prescription medication. Do not use if tamper proof seal is damaged or missing. Keep out of reach of children.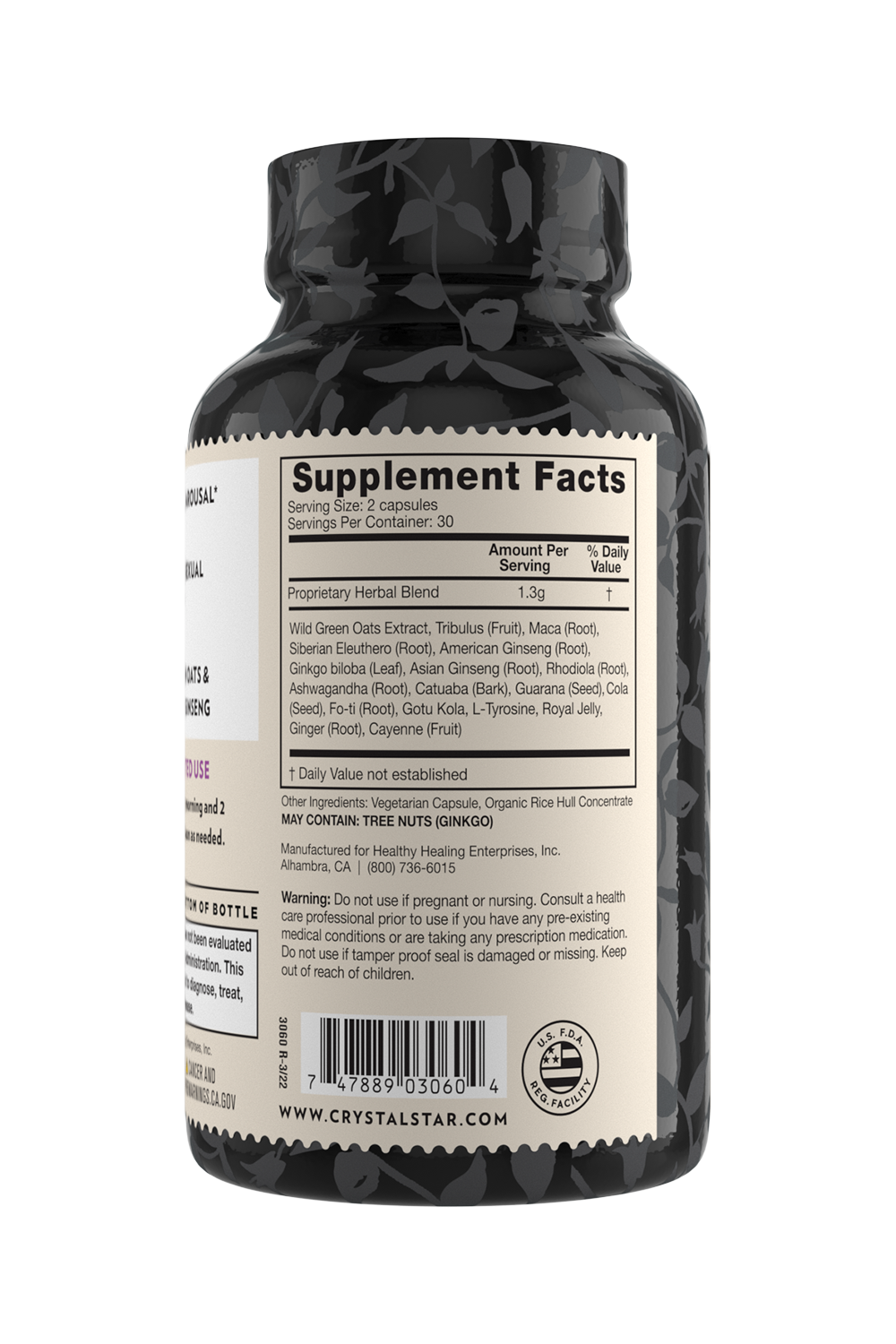 WILD GREEN OATS EXTRACT
A natural aphrodisiac that supports hormone health for
optimal sexual response.* Helps ease stress and anxiety.*
MACA ROOT
A sexual desire, energy
and mood booster.*
AMERICAN GINSENG ROOT
An adaptogen that helps fight fatigue
and manage the body's stress response.*
SIBERIAN ELEUTHERO ROOT
An adaptogen and natural
aphrodisiac with energetic properties*
Product FAQs
Will Women's Libido tamper with the effectiveness of my birth control?
We have no evidence that Women's Healthy Libido decreases the effectiveness of birth control. However, there are truly so many different variables involved such as type of birth control, current supplements or medications, and general metabolism. Because of this, we recommend you speak with your physician regarding all supplements that you're using along with your medications.
What products improve mental and physical energy?
Adrenal Support, Male Performance, Men's Libido, Women's Libido, and Ocean Minerals are our best choices for energy support. These products are high in bioavailable nutrients that encourage and promote the natural function of the endocrine system. They provide a clean energy boost without harsh stimulants.
For people with exhausted adrenals (that's most of us today), Adrenal Support is our go-to for reinvigorating the body while counteracting daily stress that worsens fatigue.
If you're more concerned with concentration and mental energy, Crystal Star Focus is a stimulant-free blend that promotes mental clarity, supports memory recall, and helps boost cognitive performance.